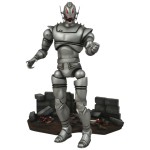 It wasn't until Ninjak picked the Marvel Select Ultron as his Best of 2012 that I decided to get one for myself. I was still a little reluctant, as Marvel Select prices have crept up over the past few years and are now regularly around $25 where I live. They haven't been much cheaper online – so I've been watching eBay.
One of the auctions I had on my watch list was ending tonight, and for a pretty decent price. It eventually closed at $12 and change – but with shipping came in at over $20. I didn't bid, however. In the last minutes before the auction closed, I did a quick check on Amazon, and found it for $16 from an Amazon vendor with Prime.
Best deal I've seen on the MS Ultron yet! There's only a few left from the vendor at this price, but even if you miss it, Amazon is keeping pace and selling it for just a quarter more, at $16.25.
Happy shopping!
Diamond Select Toys Marvel Select: Ultron Action Figure – $16
Sold by ANIMEniacs INC and Fulfilled by Amazon.

A Diamond Select release
Designed and sculpted by Gentle Giant
Recreates Marvel Comics' unkillable robotic creation of Dr. Hank Pym in classic form
7″ scale
Detailed display base depicts the fallen forms of Ant-Man and the Wasp