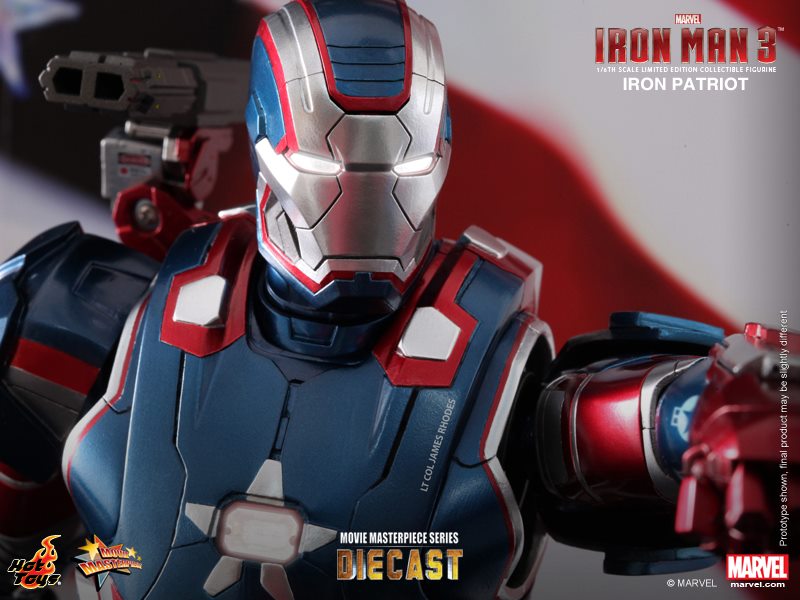 Hot Toys has announced the first in its Diecast line of figures – the Iron Patriot from Iron Man 3. I am not sure whether this line is a competitive response to other diecast 1/6 products, like those of Singapore's Play Imaginative, or just a natural line extension into an even more premium product. Either way, with increased shipping weight and more expensive materials, I am curious how these will be priced.
The Iron Patriot will have light-up features and a removable face plate revealing Rhodey (with Don Cheadle's likeness, not yet finalized) but not much else – I wonder if they reduced the number of features to help keep the cost down. We'll have to wait for pre-orders from Sideshow and others to get the full picture.
Iron Man 3: 1/6th scale Iron Patriot Collectible Figurine

Armed and ready! The Eagle has landed!

The Iron Man 3 movie has become the talk of the town just one month before movie launches. Specialized in highly detailed and movie-accurate Iron Man collectible figures and established an indivisible relationship with Iron Man since the first Iron Man movie, Hot Toys is proud to present the brand-new character – the Protector of Liberty which is well fortified of military strength and technological superiority – the 1/6th scale Iron Patriot Limited Edition Collectible Figurine from the Iron Man 3 movie from the MMS Diecast Series.

Leading the MMS Diecast Series is the iconic Iron Man 3 Series, in which the collectible figures are made of diecast material, specially designed to look more closed to the realistic Iron Man characters in the movie. The MMS Diecast Series will bring fans to the next level of authenticity, focusing on the materials, fine details and engineering of the Iron Man collectible figures, while some of the parts can be shared between our MMS and Diorama Series for displaying together in 1/6th scale. More collectibles from the Iron Man 3 will be coming from the MMS Diecast Series!

The movie-accurate Iron Patriot Collectible Figurine is highly detailed and fully deployed, specially crafted based on the image of Don Cheadle as Iron Patriot in the movie, highlighting the highly detailed head sculpt, metallic red, white and blue star spangled armor, light-up functions and rotatable machine gun.
via Iron Man 3: 1/6th scale Iron Patriot Collectible Figurine.