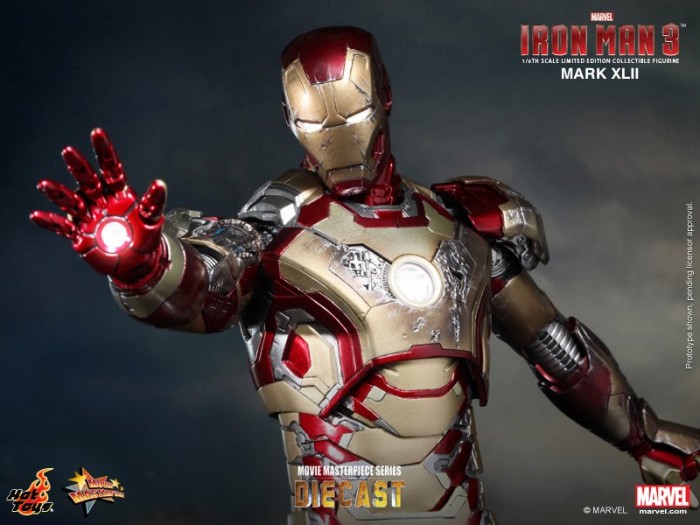 It should be no surprise that Hot Toys is making a Mark 42 figure for its Iron Man 3 line. However, they've only announced Diecast figures so far – the Hot Toys Diecast Iron Patriot was the first.
It appears that the diecast products will command a $50 premium over their normal (read: plastic) counterparts. The Mark 42 and the Iron Patriot are being sold for around $309.99 by online retailers. The recently announced limited edition (and plastic) Mark VII from the Avengers line is going for $259.99. Both the Mark 42 and the Mark VII feature LED lights, alternate heads and hands, and interchangeable armor pieces for pristine and battle-damaged looks, so it's a fair comparison.
Iron Man 3: 1/6th scale Mark XLII Collectible Figurine

Marvel's Iron Man 3 is coming to town this month and Hot Toys is proud to present the 1/6th scale Mark XLII Limited Edition Collectible Figurine from the Iron Man 3 movie for the MMS Diecast Series. This is only the second collectible to be introduced in our premium Diecast Series.

Leading the MMS Diecast Series is the iconic Iron Man 3 Series, in which the collectible figures are made of diecast material, specially designed to look more closely to the realistic Iron Man characters in the movie. The MMS Diecast Series will bring fans to the next level of authenticity, focusing on the materials, fine details and engineering of the Iron Man collectible figures, while some of the parts can be shared between our MMS and Diorama Series for displaying together in 1/6th scale. More collectibles from Iron Man 3 will be coming from the MMS Diecast Series!

The movie-accurate Mark XLII Collectible Figurine is highly detailed and fully deployed, specially crafted based on the image of Robert Downey Jr. as Mark XLII in the movie, highlighting the highly detailed head sculpt, metallic red, golden and silver well equipped armor, light-up functions.

Hong Kong fans can visit Hot Toy's Hong Kong Official Store – Toy Hunters to pre-order on April 5-6, 2013 for VIP customers, and April 7, 2013 onwards for VIP and non-VIP customers.