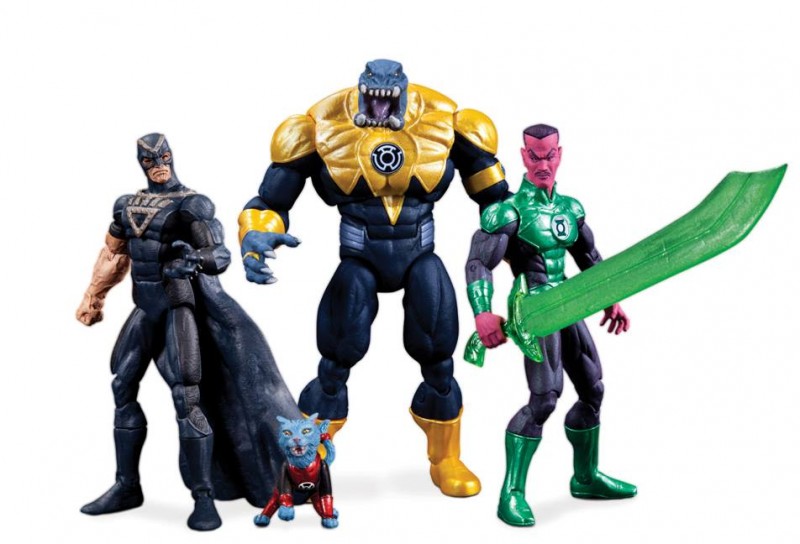 DC Collectibles revealed four exclusives for San Diego Comic-Con via USA Today. They found the Superman in the Aardman style ($24.95) most interesting, but the four-pack of Green Lantern characters in the 3.75-inch scale ($49.95) is what caught my eye. It's got Sinestro in his Green Lantern costume, Arkillo from the Sinestro Corps, Black Hand, and the feline fiend from the Red Lantern Corps – Dex-Starr.
Also of note, Hugo Strange from Batman: Arkham City ($29.95) – the only other Hugo Strange I know of was back when DCC was still DC Direct, but that was just his head on a Batman figure. This will be the first time I've seen him in action figure form in something resembling his normal lab coat / doctor's get-up. Rounding out the exclusives is a 3-pack of Supergirl, Batgirl, and Wonder Girl in animated style ($49.95)
DC Comics rolls out Comic-Con exclusive collectibles

The Man of Steel is coming to Comic-Con, and he's bringing … cookies?

A Superman action figure, with spit curl, S-shield and a super-sized midriff in the witty style of British animation studio Aardman (Wallace and Gromit), will be one of four DC Collectibles products available exclusively at San Diego Comic-Con July 18-21.

Standing more than 6 inches tall, the Aardman Superman is priced at $24.95 and comes packaged with a cookie, which would explain the tummy bulge under that trademark "S."

For the kids who enjoy the Super Best Friends Forever shorts on Cartoon Network's DC Nation animation block, there's a three-pack ($49.95) designed by Lauren Faust of the three popular superheroines, Supergirl, Batgirl and Wonder Girl.

You'll want to have some heroes with all those villains, so video-game fans will want to seek out a Hugo Strange action figure ($29.95), based on the scientist baddie from Batman Arkham City.

And the fourth release is a "Superheroes of Green Lantern" four-pack ($49.95) starring a quartet of the coolest antagonists in the galaxy on a 3¾-inch scale. In addition to Sinestro in his Green Lantern colors, there's Sinestro Corps powerhouse Arkillo, the evil Black Hand and the Red Lanterns' furriest feline member, Dex-Starr.