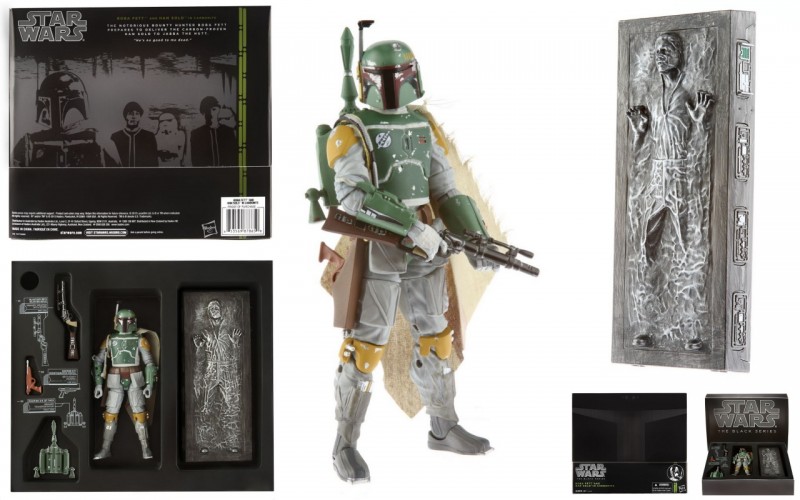 Hasbro has released their official pictures and description for what should be one of their more popular exclusives for San Diego Comic-Con. On top of the packaged shots of the Star Wars Black Series Boba Fett that were revealed through USA Today, they've included pictures of the Boba Fett figure and his bounty, Han Solo frozen in carbonite. The new pics give us a closer look at the articulation setup on Boba. Of particular note, it looks like he's got wrist hinges – allowing more natural two-handed poses with his Blas Tech EE-3 rifle.
I've had a chance to do more thinking about the $44.99 price, which seems a bit steep. At more than double the $19.99 price point that's expected at retail for single figures in the Star Wars Black Series, it might be tempting to wait for his eventual re-release in the line. I'm fairly certain they will do this, most likely with the Return of the Jedi deco – there's a precedent with the Marvel Legends Thor that launched the Return of Marvel Legends line.
STAR WARS® THE BLACK SERIES 6-INCH BOBA FETT™ ACTION FIGURE WITH HAN SOLO™ IN CARBONITE ACCESSORY

(Approximate Retail Price: $44.99; Ages 4 & up; Available through HasbroToyShop.com Booth #3329 at Comic-Con International in San Diego)


In 2013, Hasbro takes collectible STAR WARS action figures to the next level with the introduction of THE BLACK SERIES action figure line! For the first time ever, Hasbro is introducing a 6-inch scale of the greatest characters from the STAR WARS universe, and fans will have their first opportunity to start their BLACK SERIES 6-inch figure collection at San Diego Comic-Con with the BOBA FETT action figure Owhich comes with HAN SOLO IN CARBONITE accessory. Following the convention, a limited number will be available on HasbroToyShop.com.