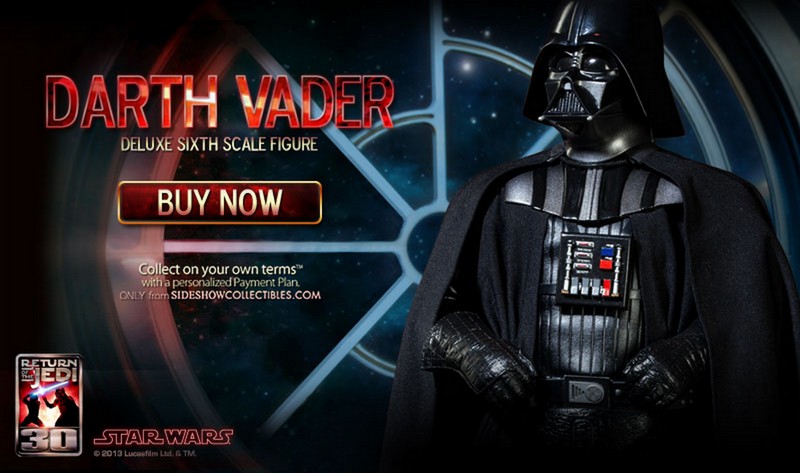 If you can believe it, I've never owned a Star Wars action figure. When I was a kid, most of my friends had the old Kenner figures – one of the figures I coveted most was Darth Vader, with the light saber that you could extract from his arm. And then as an adult, I've somehow avoided getting pulled into the Hasbro line that's been going strong forever. My resistance to the Dark Side has ended – I've pre-ordered the deluxe 1/6 scale Darth Vader from Sideshow Collectibles.
This is the second Vader from Sideshow – the first came out about four years ago, for a bit less than the $249.99 that this one costs. But this new version has a removable two piece helmet, and a gnarly Anakin head sculpt underneath. I'm also a sucker for lights, and this Vader has them on his chest piece and belt. He also will come with a bunch of hands so he can hold his lightsaber, beckon for Luke to join the Dark Side, and Force-choke unbelievers.
There was also a short pre-order window for Vader at BigBadToyStore for the same price, but already sold out. The Sideshow exclusive version will include an interchangeable severed gauntlet, so I went with that one. It'll be a long wait until January, when Vader is scheduled to ship. So while this is the first Star Wars figure I've bought, the first one I'll have in my Rebel scum hands is the SDCC exclusive Star Wars Black Series Boba Fett from Hasbro, Comic-Con gods willing.