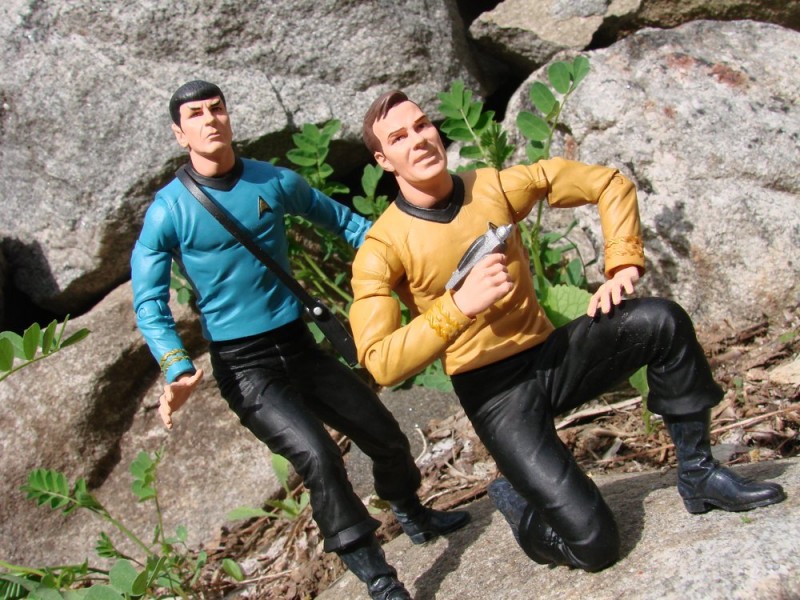 If you've been wavering about the poseability (or lack thereof) of the upcoming Star Trek Select action figures, this may help. Diamond Select Toys has posted that the parts that come with the Star Trek Select Kirk and Spock are interchangeable between figures. That includes the hands and lower torsos – my biggest gripe has been that the legs on these figures are static, but since you can swap between figures, that opens up a lot more posing options.
They also solved the mystery of why Spock comes with two Tricorders – one is open, and the other is closed. I do wonder why including two was more economical than including one that could just open and close, but I suppose the extra accessories will pay off if more crew members from the Original Series make it out in this line.
Check Out the Star Trek Select Kirk and Spock Figures in Action!

The ultimate Star Trek action figures are almost here! Arriving next month, the first two figures in Diamond Select Toys new, deluxe Star Trek line will be a classically-styled Captain Kirk and Mr. Spock, each with interchangeable parts and a diorama base. We got in a couple of packaged samples, and couldn't wait to bust them open and send them on an away mission! Check out the pics of Kirk and Spock in action on an alien planet as well as in the Enterprise's engineering section, demonstrating their various interchangeable parts, including hands, legs, heads, weapons, accessories and more! Pre-order both today at your favorite online retailer or your local comic shop!
via Check Out the Star Trek Select Kirk and Spock Figures in Action! | Art Asylum Blog.