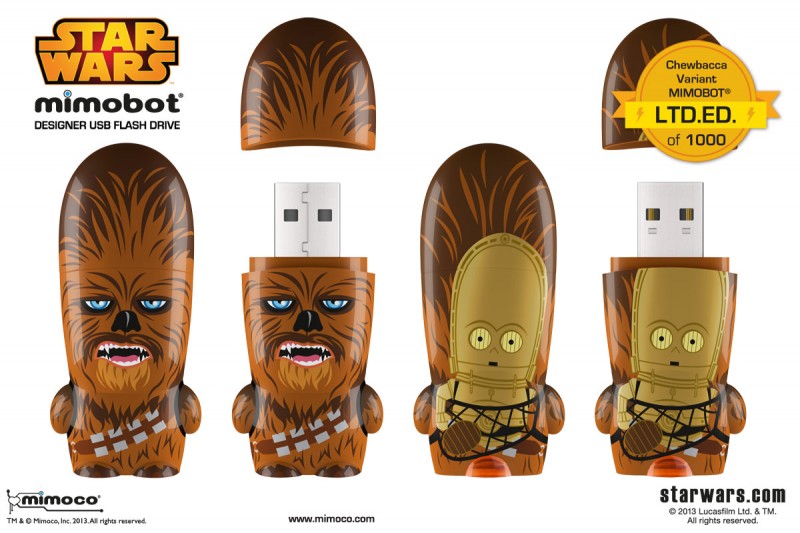 It's almost like getting two for one with the Chewbacca MIMOBOT announced for San Diego Comic-Con. That's because he's toting around a busted up Chewbacca, just like he did in The Empire Strikes Back, arguably the best Star Wars movie ever.
You can pre-order the Chewbacca MIMOBOT now. You flea-bitten furball! Only an overgrown mop-head like you would be stupid enough to…
Mimoco® Prepares For Eighth Anniversary with Pre-Sales of Their 2013 San Diego Comic-Con Exclusive Lineup; Reveals Star Wars MIMOBOT® USB Flash Drives Releasing at SDCC

Star Wars fans rejoice with the reintroduction of Chewbacca MIMOBOT in Star Wars x MIMOBOT Series 9 

(Boston, MA – July 2nd, 2013) — Mimoco® (www.mimoco.com), the Boston-based consumer electronics design studio is preparing for their annual pilgrimage to San Diego Comic-Con, where in 2005 they launched their company and MIMOBOT® brand of designer USB flash drives merging art toy aesthetics with the functionality of personal data storage devices. Over the past eight years Mimoco has pioneered the licensed flash drive category with their MIMOBOT platform blooming into a veritable powerhouse showcasing dozens of pop-culture franchises and hundreds of iconic characters in MIMOBOT form and function, all preloaded with exclusive Mimory® content. Over the next month, week by week, Mimoco will let fans in on their newest collaborations – eight limited edition MIMOBOT flash drives, one for each year of their existence, each a sparkling candle burning bright in Mimoco's metaphoric birthday cake!

Mimoco continues the celebration with their Star Wars x MIMOBOT line, their longest-running co-branded licensed collection with Lucasfilm that started in 2006. Now in Series 9, Mimoco re-releases Chewbacca MIMOBOT in a hand-numbered limited edition run of 1000 units, in up to 128GB capacities, as well as in USB3.0 speeds. As with all Star Wars x MIMOBOT drives, these will be preloaded with bonus digital Mimory® content including the MimoDesk® personalization suite of wallpapers, icons, and avatars, and the exclusive MimoByte® sound software. Chewbacca Variant MIMOBOT is a complete redesign of Mimoco's Star Wars Series 1 Chewbacca MIMOBOT and this time around he's brought a friend with him! The temporarily disassembled C-3PO is hanging out on the back of everybody's favorite Wookiee spitting all sorts of complaints into his ear. This Star Wars Series 9 MIMOBOT joins dozens of Star Wars characters including the recently released Jar Jar Binks and R2-A6 limited editions announced earlier this year. But act fast because only 1000 Chewie Variants will be manufactured.

Mimoco CEO, Evan Blaustein said: "The theme of our eighth anniversary is friendship and this is clear in the redesign of the Chewbacca MIMOBOT. Fans will remember that in The Empire Strikes Back, Chewie saves C-3PO and carries him until proper repairs can be made."

"Furthermore we look forward to growing the bond that Mimoco has made with Lucasfilm over the years and for years to come," added Blaustein. "We're proud to bring back Chewbacca after all these years first as a Star Wars collector's item to help celebrate our eighth anniversary together with fans and friends."

A portion of the limited edition Chewbacca Variant MIMOBOT is now available at www.mimoco.com for pre-order before its official release at Mimoco's booths in the Toy Grower section (#5338) and in the Star Wars Pavilion (#2913M) on July 17-21 at San Diego Comic-Con International.

About Mimoco®

Boston-based design house Mimoco fuses the art of contemporary characters with the functionality of personal data storage devices and is well known in both the pop-culture driven Art Toy underground and the high-tech electronic world. The MIMOBOT USB flash drive line includes original characters and licenses from Star Wars™, Hello Kitty®, Transformers®, and DC Comics™, to pop-artists like tokidoki®, FriendsWithYou, to the Legends of MIMOBOT Series featuring Albert Einstein, Elvis, and more. MIMOBOT USB flash drives are available in up to 128GB capacities and USB 3.0 speeds, are Mac and Windows compatible, and include preloaded bonus Mimory™ content. Learn more at www.mimoco.com. About Lucasfilm Ltd.
Lucasfilm Ltd., a wholly owned subsidiary of The Walt Disney Company, is a global leader in film, television and digital entertainment production. In addition to its motion-picture and television production, the company's activities include visual effects and audio post-production, cutting-edge digital animation, interactive entertainment software, and the management of the global merchandising activities for its entertainment properties including the legendary STAR WARS and INDIANA JONES franchises. Lucasfilm Ltd. is headquartered in northern California.

Lucasfilm, the Lucasfilm logo, STAR WARS and related properties are trademarks and/or copyrights, in the United States and other countries, of Lucasfilm Ltd. and/or its affiliates. TM & © 2013 Lucasfilm Ltd. All rights reserved. All other trademarks and trade names are properties of their respective owners.