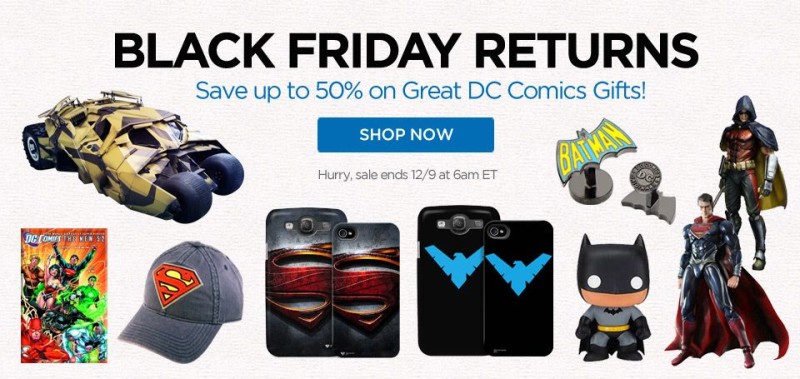 I know it's the holiday season and that we should expect sales, but I'm exhibiting my crotchety old man ways and hating on the overuse of terms like Black Friday, Cyber Monday, and the like. A couple weeks ago, I was at my front door screaming at the neighborhood kids to get off my lawn when I heard about Brown Thursday and Mattycollector's 8 Day Cyber Monday Week that started on Tuesday, and nearly had an aneurysm. [/rant]
This weekend, you'll be able to pick up a bunch of stuff from DC Collectibles at Shop DC Entertainment's "Black Friday Returns!" sale. For example, the MAD Just-Us-League figures are back on sale for over half off. But there's even more stuff – 337 items in total on sale, including action figures, busts, statues, phone cases, and clothing. The sale features DC merchandise from other partners too, including Mattel (Man of Steel and DC Unlimited stuff), Square Enix Play Arts Kai figures from Arkham, DC LEGO sets, and DC Mimobots from Mimoco, to name a few. There's even the Hot Toys Camo Tumbler.
The best discounts are on the DC Collectibles stuff, as you might expect. I'm just trying to prep myself for the next couple of Black Fridays until Christmas (which thankfully falls on a Wednesday) is over. Bah humbug!