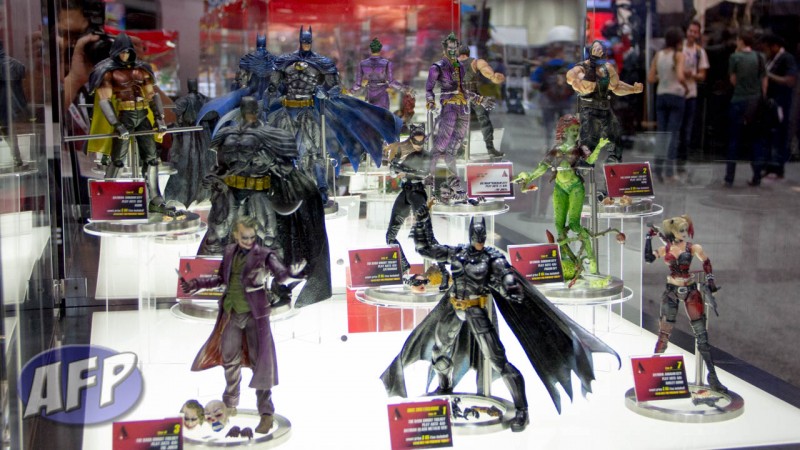 It feels like there's been a shift in the development of Square Enix's Play Arts Kai lines. Its roots are in its video game licenses, but this show, most of the new products in the pipeline are in the various DC licenses that they've added over the past couple years. From Arkham Asylum / City, they've moved into the Dark Knight Trilogy and Man of Steel in force, and they're continuing to move forward with their DC variants line.
They have two cases that are still covered – if I were a betting man, I'd put my money on Arkham Origins. Any other guesses?
The Batman lines are running to their natural conclusion in both the Arkham lines and the Dark Knight Trilogy, and although the waits between waves is long, it still feels like they got through all the core characters in a short amount of time. I hadn't seen the new classic Batman skin for the Arkham line before this show.
Likewise with Man of Steel, Square Enix has gone all-in, hitting all the core characters in just a couple waves. Of course, Man of Steel is still on its first movie, so there weren't as many to hit.
DC Variants is adding characters at a pretty fast clip. Although so far this line hasn't been my cup of tea, they're hitting the core members of the Justice League and more. I like that new Batman better than the first one.
Figures from video games are still a core for Play Arts Kai, but it just feels like the rate of new figures isn't as great as it is on the DC side. Maybe this is just from the diversity of games that they are covering.