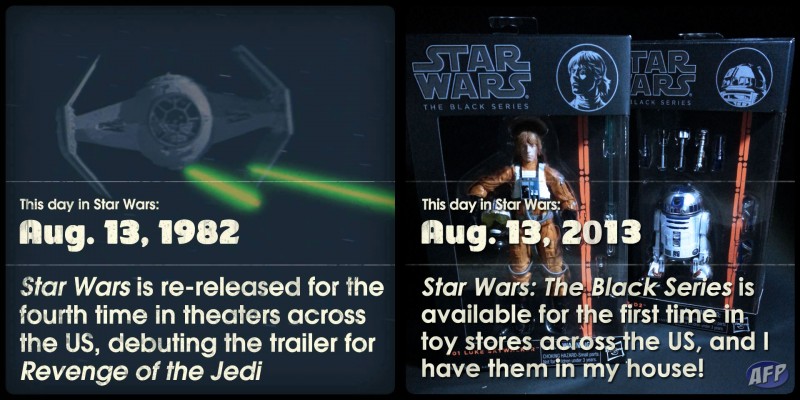 Yesterday afternoon, I saw this image of a TIE Fighter on the Gentle Giant Facebook page. And as I was thinking about how old the date on the picture made me feel, the UPS truck pulled up and dropped off the first of three boxes with the new Star Wars Black Series action figures from Hasbro. There's nothing like toys to make you feel young again!
Thinking that this must be the workings of the living Force, I decided to add another auspicious date in Star Wars history. You don't want to know how long it took, with me bumbling around in Photoshop. Suffice to say, I feel old again.
Incidentally, it's Amazon that started filling orders first (and I don't know why they shipped my order in 3 separate boxes) – I had found it available for pre-order there first, and then at ToysRUs.com later, and ended up with orders with both. I went back to check, and it looks like all the Star Wars Black Series 6-inch figures are back in stock at Amazon, for the regular $19.99 price. If you are still looking, that's the best way I've found to get them individually (letting you army build the Sandtroopers.) My wallet has a bad feeling about this.