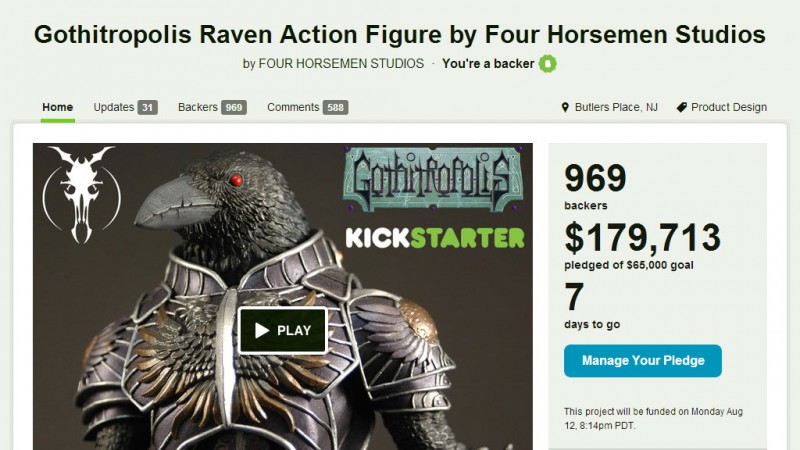 With the doom and gloom dampening the spirits of some of the bigger collector-oriented lines, it's nice to know that a passionate fan-base can help a smaller, non-licensed toy line get a big start. The Four Horsemen's Gothitropolis Ravens Kickstarter project has exceeded all of their expectations. With a week left in the campaign, backers have pledged enough to unlock all of the initially planned "stretch goals" – when I talked to Cornboy and Eric Treadaway a few weeks ago at San Diego Comic-Con, both said they initially thought the last two stretch goals (regular and bone wings) were too far out of reach. Not so.
With long-time and new fans continuing to jump on board the project in a big way, the Four Horsemen are putting together new stretch goals for the push in the final week of the campaign.
The Pink Flamingo joins the Screaming Eagle as a newly revealed Raven variant. The Screaming Eagle was posted as a mystery figure to be unlocked by a stretch goal – the Kickstarter campaign got off to such a fast start that it was unlocked in the first week, catching the 4H unprepared while they were at Comic-Con. The Flamingo, who will come with webbed feet just like Minotaur the Duck, was quickly conceived when they realized the funding for the campaign would surpass the final bone wings (now with bonus skull head) stretch goal. It's an homage to the Pink Elephant variant that was part of the Four Horsemen's Seventh Kingdom Elephants wave. As of the weekend, the Flamingo has been unlocked too.
To keep it going, they've added yet another stretch goal – a $3 add-on for stands, compatible with all previous Four Horsemen Fantastic Exclusive figures. Each stand will also come with a clip to facilitate flying poses. That's an amazing value, considering what some flight stands are going for these days.
So keep tabs on this project in its last week. If you haven't pledged, now is the time. Kicktraq has the Ravens Kickstarter projected to close above $200K, at the low end.