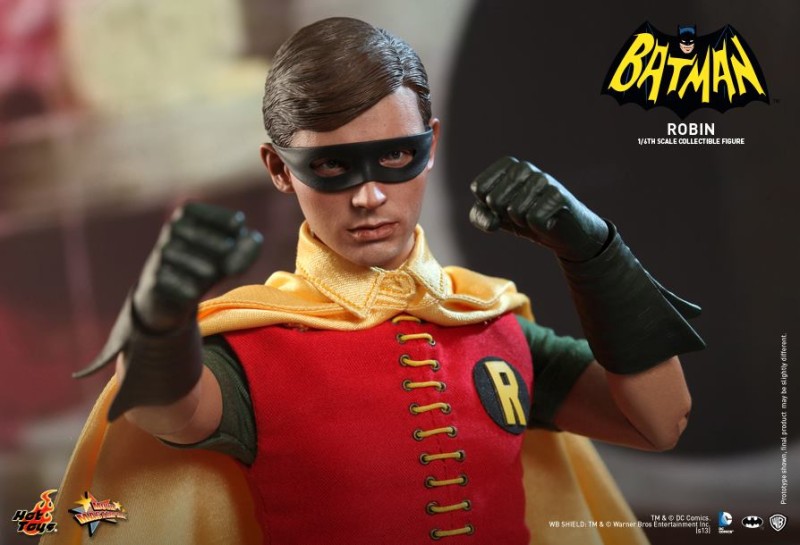 When it comes to the classic TV series, you can't have Batman without Robin, so it looks like both Hot Toys releases from the superhero show I grew up on will go up at the same time. Just like with Batman, I'll be checking Sideshow and BigBadToyStore for their pre-order pages today.
Robin doesn't come with quite as many accessories as Batman, but he will have enough hands to shake several sticks at, and the likeness to Burt Ward is just uncanny. Cowls off to Hot Toys for this Dynamic Duo.
Batman (1966): 1/6th scale Robin Collectible Figure

"Holy Smokes, Batman!"

The crime-fighting hero of Gotham City is rarely seen without his faithful sidekick – Robin in the Batman 1960s television series. The campy and lighthearted TV show has become very popular with fans and a movie was made between the first and second season of the TV series.

Hot Toys is delighted to introduce the 1/6th scale Robin Collectible Figure from the classic 1966 Batman movie. The collectible figure is newly developed and highly detailed which is specially crafted based on the image of Burt Ward as the boy wonder Robin, featuring a screen-accurate masked head sculpt, the classic Robin costume, weapon and accessories.

The Batmobile will be coming soon, please stay tuned!