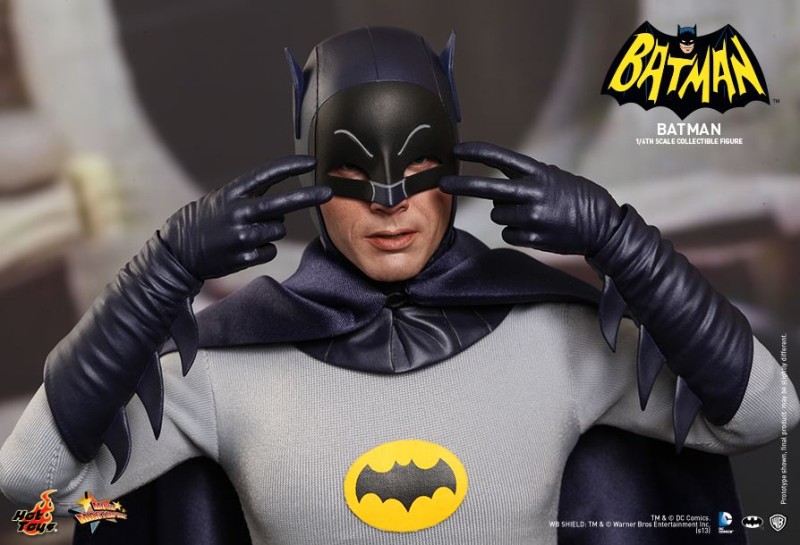 Somehow I have managed to resist buying into the Mattel Classic TV Batman figures, but I don't think my resolve will hold when this Hot Toys Batman goes up for pre-order. I haven't seen it go up yet, but I'll be checking Sideshow and BigBadToyStore today.
I was an instant fan when I saw Batman and Robin in the Sideshow booth at San Diego Comic-Con. Now that Hot Toys has revealed that Batman will come with Batusi hands, shark repellent, and that pesky bomb, it's over for me. He'll also come with three interchangeable mouth plates – the slight Adam West smirk, a serious mouth, and then the can't-get-rid-of-the-bomb grimace.
Holy Action Figure, Batman!
Batman (1966): 1/6th scale Batman Collectible Figure

"Na na na na…Batman! Batman! Batman!"

The catchy opening song, campy style costumes, and lighthearted comical scenes have made the Batman 1960s television series a classic among Batman fans. Adam West has become synonymous with the crime fighting hero and the show's success has even led to a movie being made featuring most of the original TV cast.

Hot Toys is excited to introduce the 1/6th scale Batman Collectible Figure from the 1966 feature film. The collectible figure is newly developed and highly detailed, which is specially crafted based on the image of Adam West as the iconic character Batman, featuring a screen-accurate masked head sculpt, specially made costume with Batman logo, weapons and accessories.

The Batmobile will be coming soon, please stay tuned!