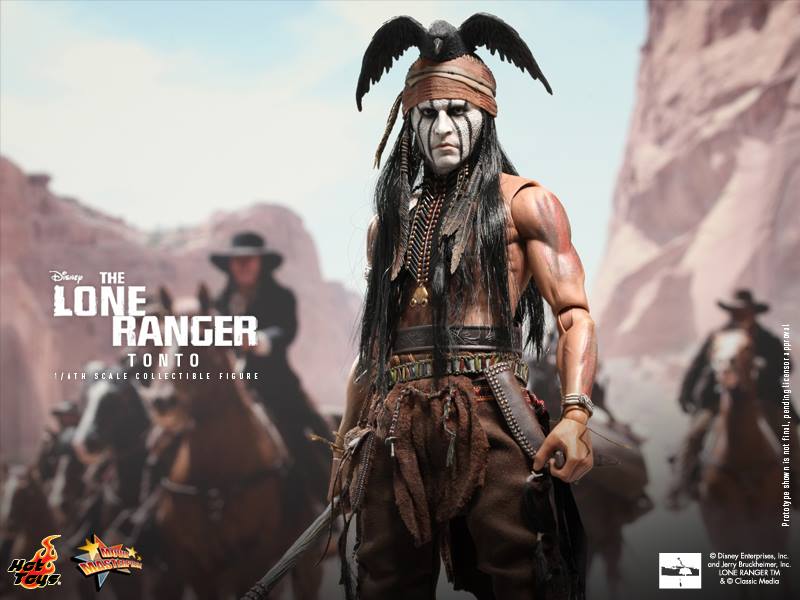 Hot Toys teased their Tonto figure from The Lone Ranger leading up to SDCC, where we saw Tonto at the Sideshow Toys booth. It took a few weeks, but finally, here's the official press release with some pretty pictures.
The Lone Ranger is one of this summer's tentpole movies that I still have not seen. Judging from the box office results, sounds like it had some trouble getting a broad audience outside the people that love Johnny Depp's eclectic performances. Will we get an Armie Hammer Lone Ranger from Hot Toys? I can't imagine Tonto without him, but I also never thought I'd see a Lone Ranger movie where the sidekick gets top billing. Come to think of it, I guess I haven't… yet.
Tonto is available for pre-order from Sideshow Collectibles and BigBadToyStore for $204.99. He's due out in 1st quarter 2014.
The Lone Ranger: 1/6th scale Tonto Collectible Figure

Eccentric roles are Johnny Depp's specialty. In Disney's The Lone Ranger, Johnny Depp has given an interesting performance as the peculiar Native American Tonto. Despite their initial differences, Tonto has partnered up with his "Kemo Sabe", the Lone Ranger, and rode together in an adventure to bring justice in the Old West.

The movie-accurate Tonto Collectible Figure is specially crafted based on the image of Johnny Depp as Tonto in the movie which features a detailed head sculpt with face paint, real fabric hair, weapons and a number of finely-made tribal accessories.