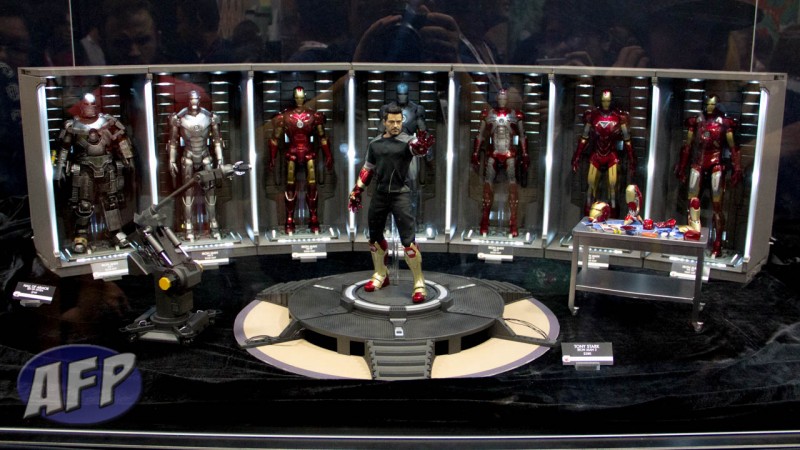 I had been wanting to get to the Sideshow booth to check out the Hot Toys displays – it's always one of the highlights of SDCC for me. I got my chance yesterday afternoon – and would have had an Instapics post up sooner, if it wasn't for the massive congestion in the cellular network. All afternoon, a lot of folks in the San Diego Convention Center were having trouble making calls and sending texts, not to mention uploading pictures to the AFPRon Instagram account. 😀
Despite frustrations trying to keep connected, the Hot Toys showing did not disappoint. As you might expect, there was a ton of Avengers and Iron Man figures on display, but when you add in Robocop, G.I. JOE, Lone Ranger, and the growing DC licenses, there was something good for everybody.
I didn't spend much time looking at the Avengers, partly because a lot of the figures are already widely available. But the convention exclusive Star Spangled Man version of Captain America had been teased and was there. I'll stand by my earlier statements that the USO segment during the First Avenger movie went on too long. (But the costume is great for long-time fans of Cap in the comics.)
With all the Iron Man figures that are coming, it would take a Powerball win to get all of them, and then have some place built to store and display them. But there's still some characters missing – if you can get a Coulson in the Avengers, I think you'd expect that there would someday be a Pepper Potts and a Happy Hogan.
Let's face it – G.I. JOE Retaliation, the Lone Ranger, Terminator, and Robocop ought to have enough figures to get them out of the catch-all category for this article. But for now, Marvel and DC continue to dominate the Hot Toys product releases.
Will Man of Steel revive the Superman franchise for DC? I'm sure Hot Toys would like that.
Judging by the number of pictures I took, I must be in love with Hot Toys' versions of the classic Batman TV series Batman and Robin. First of all, the only other Robin that's been revealed is the one from Mattel's TV line – and it's just not fair to compare the two. Batman has gotten a lot more companies to make figures of him. So far, the quarter scale Bats from NECA has been my favorite – but the Hot Toys version is the new champ.
It's a bonus for this line that the Hot Toys Batmobile is just awesome. Too bad I haven't won the lottery yet…