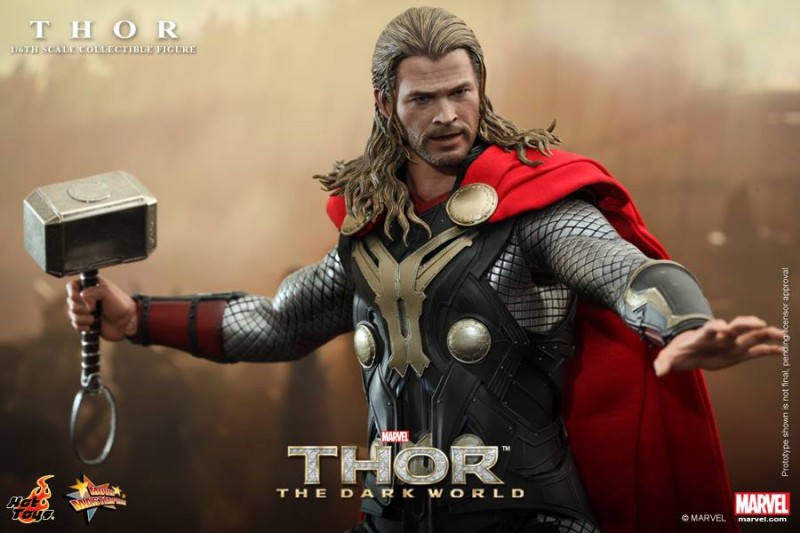 With Thor: the Dark World opening in the US a week from Friday, it's about time that Hot Toys reveals its plans for the movie. And, not wanting to disappoint, they've got two versions of Thor heading our way. The first is the armored version of Thor. I've got the Thor from the first movie, and can see the subtle improvements in the head sculpt – this is more representative of Chris Hemsworth than the first one and the subsequent Avengers version. Perhaps not having to accommodate a helmeted look helps.
Thor is available to pre-order from Sideshow Collectibles. He's $229.99 and due September 2014. We'll have the second version up shortly.
Thor: The Dark World – 1/6th scale Thor Collectible Figure

The next highly anticipated Marvel Studios film this year – Thor: The Dark World is soon hitting the theatres. Following the events of The Avengers, Thor returns to the big screen and sets upon a journey to confront a new enemy that even Odin and Asgard cannot withstand.

To celebrate the launch of this epic sequel of Thor, Hot Toys is proud to present the new 1/6th scale Thor Collectible Figure. The movie-accurate collectible is specially crafted based on the image of Chris Hemsworth as Thor in the movie, featuring the newly developed head sculpt, muscular body, highly detailed costume, weapon and accessories.
via Thor: The Dark World – 1/6th scale Thor Collectible Figure.