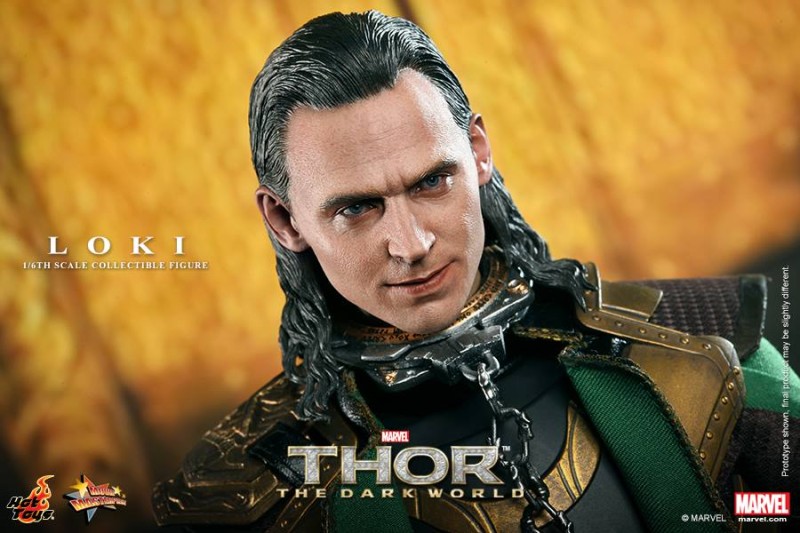 Hot Toys announced Thor from the Dark World and an exclusive light armor version two and a half months ago, and it was a bit of a surprise not to have his brother Loki alongside him. Hot Toys has rectified that with this announcement. I hope they continue to work on the likeness of Tom Hiddleston – something seems a bit off in these shots. The Avengers Loki release just seems to capture him better.
I haven't seen the pre-order yet, but I'd check Sideshow Collectibles for the Hot Toys Loki since they will likely get the exclusive version that includes the Aether accessory.
Thor: The Dark World: 1/6th scale Loki Collectible Figure

"You must be truly desperate to come to me for help." A new powerful enemy has appeared to destroy the nine realms, and Thor is forced to seek assistance from Loki in order to save us all in Thor: The Dark World, but can the God of Mischief be truly trusted?

Regardless of which side Loki is on, he has been extremely popular with fans of the Marvel Universe! Even Mr. Tom Hiddleston himself was very happy to see Hot Toys' The Avengers: 1/6th scale Loki Collectible Figure which was released last year.

To continue the popularity of everyone's favorite trickster, Hot Toys is excited to present the new 1/6th scale Loki Collectible Figure from Thor: The Dark World. The movie-accurate collectible is specially crafted based on the image of Tom Hiddleston as Loki in the movie, featuring the newly developed head sculpt, highly-detailed costume, weapon and accessories.

The bonus 1/6th scale Aether will be included for selected markets only.
via Thor: The Dark World: 1/6th scale Loki Collectible Figure.