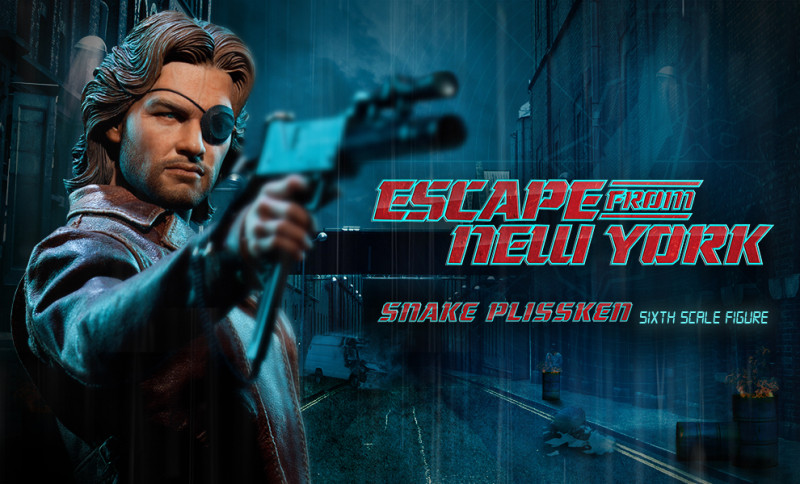 Growing up in the 80s, Escape From New York and Snake Plissken were staples of the late night cable TV movie diet, with all the nutrition you could want with low budget effects, loads of violence, and hotness in Adrienne Barbeau.
Sideshow's upcoming 1/6 scale figure of Snake has got a pretty good Kurt Russell likeness, the costume details you'd expect, and Snake's arsenal to boot. You'll be able to pre-order Snake Plissken tomorrow at Sideshow, including a Sideshow exclusive version with a surprising cassette tape.
And Sideshow – don't get any ideas about an Escape From L.A. version. Somehow it'd be the same figure, but suck!
Call him 'Snake' – Introducing the Snake Plissken Sixth Scale Figure

New York, 1997.

Set in a then near-future, the 1981 film Escape from New York introduced movie audiences to deadliest man alive, Snake Plissken. In need of a bad enough dude to rescue the president, the condemned criminal and former military hero is sent on a dangerous mission in the maximum security prison island of Manhattan, where "breaking out is impossible and breaking in is insane."

"Call me Snake."

Amidst the low budget yet visually stunning cavalcade of nonstop action, director John Carpenter and actor Kurt Russell knew it'd take more than an eye-patch to make an icon — although that certainly didn't hurt. The hard-as-nails misanthrope with a smug sense of humor and bad attitude quickly fought his way through a cesspool of cyberpunk scumbags, and into the hearts of filmgoers everywhere.
What, you thought he was dead?

Bust out the Bandstand Boogie, Sideshow Collectibles is ready to blow the future apart! We're proud to present the Snake Plissken Sixth Scale Figure, leading anti-hero of the 80s cult classic Escape from New York.

The future is right now

Chock full o' attitude, we've brought the all-American escape artist to life with a highly detailed likeness of Snake, as portrayed by Kurt Russell in his first feature role. Sporting his full abdomen cobra tattoo, Plissken is decked out in his trademark duds, including eyepatch, muscle shirt and distressed leather jacket, urban camo pants, shin guards and combat boots.

"Where are my guns?"

Ready to take on the Duke, we've armed the one-eyed warrior with more than banter. He's got a complete arsenal of modified firepower holstered at his side, toting the USPF-issued submachine gun with detachable silencer, scope and spare mags, his sidearm revolver with scope, and an array of throwing stars.

Cigarette in hand, Snake is fully equipped with a radio and homing device – and just so there's no funny business he's shackled up with wrist time-clock and tracker.

Sideshow Exclusive Edition

To complete the mission and ensure the survival of the human race, the Exclusive Edition will include an additional swap out hand with cassette tape containing the President's top secret nuclear fusion information (below).

The Snake Plissken Sixth Scale Figure is an ultimate tribute to the 80s cult classic badass, and must-have for fans of John Carpenter's 'Escape' saga!

He'll be available for pre-order this Thursday October 24th, with an official announcement in the weekly Sideshow Newsletter. The regular and Exclusive editions will each be priced at $159.99, with installment payment plans available.
via Call him 'Snake' – Introducing the Snake Plissken Sixth Scale Figure | Sideshow Experience.