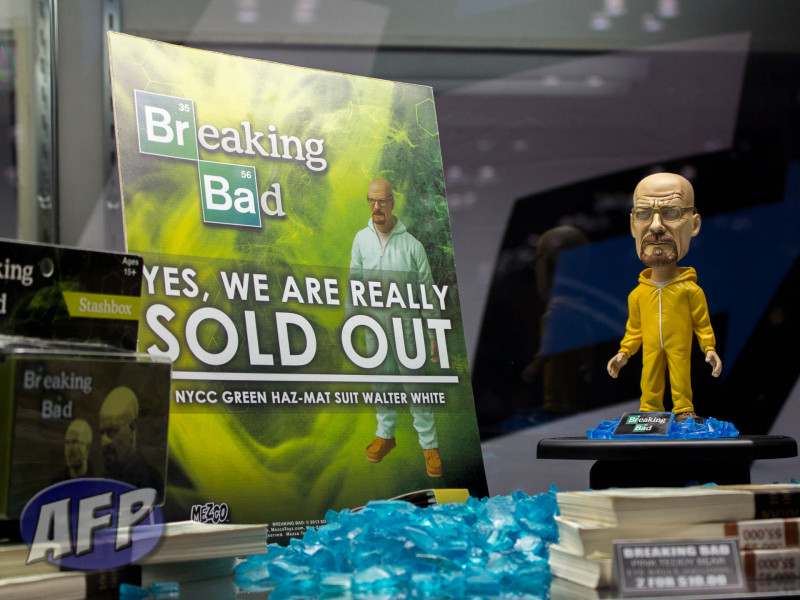 I started my binge-watching of Breaking Bad shortly before New York Comic Con started, so I was looking forward to picking up a Walter White exclusive. And I was as disappointed as Walt Jr. to find his dad had sold out. I returned on Sunday and decided to pick up a Heisenberg figure. This time, I was in luck – Mezco had saved one, not for me, but because the bubble had ripped off and they weren't sure anyone would want it. But Walt had his sunglasses, hat, ziploc full of blue meth, and his duffel bag of cash. I won.
It's nice to see Mezco branching out on Breaking Bad with Saul Goodman and Jesse Pinkman bobble-heads. But it sure would be nice to get a Jesse in a hazmat suit to go with Walt. It was also nice to see a big enough to be scary Chucky, but it seems like Thundercats has stalled with Cheetara – would have expected Tygra next.
Their big push is on Axe Cop, which debuted its animated show this summer and got extended with 6 more episodes for a 12 episode season one. That's great news for Mezco, so let's hope for a second season to give this line some legs.
And DC Mini Mez-Itz keep going. Just like almost every other company in the toy business, Mezco licensed the 1966 Batman classic TV series, and that's where we'll see most of the new Mez-Itz. I enjoyed the 6-inchers, but the trend for licensed vinyl figures is in the smaller blind boxed category.