Lots of excitement for action figure fans in this Kickstarter update. Two funding campaigns are closing this week – Warpo's Legends of Cthulhu ends on Wednesday, July 9, and Boss Fight Studio's Vitruvian H.A.C.K.S.  ends Friday, July 11. Both are already funded and will proceed. Now it's just a question of how many stretch goals each will unlock before the closing bell.
Meanwhile, the Four Horsemen provided four massive updates on their Gothitropolis Ravens project, which was funded back in August last year – 55 pics of paint samples from the factory.
---
Legends of Cthulhu Retro Action Figure Toy Line by Warpo – ends Wed, Jul 9 2014 5:50 AM PDT
Warpo's Cthulhu campaign comes to a close on Wednesday morning. With 40-plus hours to go, they are funded at over $118K (the goal was $60K). While this means the project will receive its funding, it may be a stretch to reach their final two stretch goals that unlock at $140K and $200K.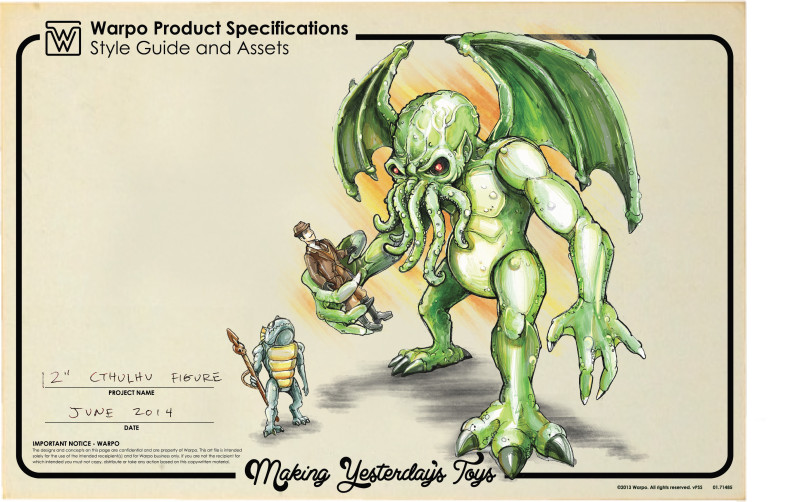 The $200K stretch is a 12-inch Cthulhu – massive! So if you haven't pledged yet, now is the time!
---
Vitruvian H.A.C.K.S. Action Figures by Boss Fight Studio – ends Fri, Jul 11 2014 7:52 PM PDT
At the end of the week, Boss Fight Studio's fantasy-themed campaign comes to a close. This campaign has seen an impressive amount of support, with funding currently closing in on $220K with just over 800 backers. The average pledge is around $435 and change per backer.
Boss Fight built in a lot of stretch goals to unlock every $15K or so over the funding target of $75K. So far, that's 10 stretch goals amounting to 23 figures unlocked. Another figure will be unlocked at $225K, and there's still a few more stretch goals after that. Should be an interesting run to the finish line for this project, as the All-In reward at $500 becomes a better value with each stretch goal unlocked.
---
Gothitropolis Raven Action Figure by Four Horsemen Studios – funded on August 12, 2013
The Four Horsemen raised over $300K from over 1,500 backers last summer. Originally targeted at a March delivery, the Ravens project has had some factory setbacks, but backers have remained very patient. It looks like the factory issues are resolved – the latest massive update from the Four Horsemen included over 50 pics of paint samples from the factory – and that's not even everything!
While the Four Horsemen reported that there were some paint apps missing and other minor issues, it doesn't look to be anything major. Hopefully we will see some estimates for delivery from them soon.