Last week, a Florida mom petitioned Toys R Us to stop selling Breaking Bad action figures, using the tried and true family values argument. Nearly ten thousand people voiced their support, and then Toys R Us blinked. This helped fill out an otherwise uneventful news day (if you discount the news of Ebola landing on US soil) with a story that resonated widely by bringing together pop culture and human interest angles. The story was picked up by everyone from ABC News to Zimbio.
Mainstream media came out largely in support of the Florida mom and the actions taken by Toys R Us, and this prompted fans of the TV show and action figures to protest the protest. Action Figure Insider's Daniel Pickett launched a counter-petition, keeping the story in the news cycle for another revolution. The petition to keep Breaking Bad on toy shelves has garnered over forty thousand signatures, but despite this, TRU has not reversed its actions. This leads me to today's topic: who actually won this fight?
You might be surprised (if you already forgot the title of this article) – almost everyone comes out ahead.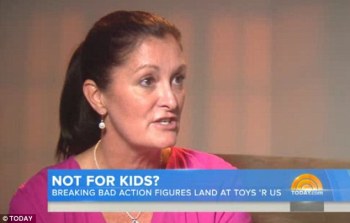 Susan Schrivjer, the Florida mom, is definitely a winner in this story. Armed only with a change.org petition, this modern day David took on a retail Goliath and struck a bullseye. Having been featured on national television, she can take her 15 minutes of fame back home and wave it around her church group, while her kids watch Real Housewives of (insert city name here) with her for their dose of reality family values.
(Disclaimer: I have no idea if the Florida mom goes to church or watches Bravo, but I'm pretty sure she has kids.)
But before you cast a critical eye on this enemy of good toys, consider that she comes from Fort Myers, Florida – a city whose only distinction is another war of the just – the subjugation of the Seminole natives for over 40 years. According to the most recent census, almost 30% of the homes in Fort Myers have been abandoned, and the city features a higher minority rate than the rest of white, conservative Florida and higher occurrences per capita of murder, assault, and robbery than the rest of the United States.
So if you can't concede her point, at least acknowledge that her judgment has been colored by her environment.
Outcome: Big moral victory for Mom, but she still has to live in Fort Myers.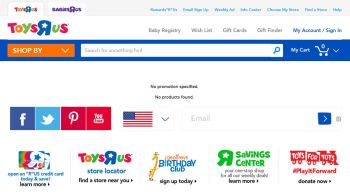 Despite coming under fire, Toys R Us also looks like a winner here – they got to play both sides and came out none the worse. Sure, they caved, but did you expect them to make a real stand here? After all, their business is about catering to moms buying toys for their kids. They'd love it adult collectors also made their purchases there, but they're really going after sales to our kids.
They did, however, give collectors some lip service. TRU's initial response highlighted the collector-oriented section of their stores, and the next one on their way to capitulation said that the Breaking Bad toys were only available in a limited quantity and not at all stores. Finally, the company admitted that "We methed up" and showed moms everywhere they are all for family values after all.
Or are they?
As the petition gains supporters, the "Breaking Bad" figures have disappeared from the Toys "R" Us website. A customer-service representative said the toys are still available at stores, though. Kathleen Waugh, a spokeswoman for the Wayne, New Jersey-based retailer, didn't immediately return a call seeking comment. With the controversy growing, individual stores are opting to remove the toys from shelves.
via Toys 'R' Us Comes Under Fire for Selling 'Breaking Bad' Line – Bloomberg. (Note: emphasis is mine.)
I'm guessing the Fort Myers Toys R Us has cleared its shelves of the limited number of Breaking Bad toys it had in stock, but that other stores around the country are in no big hurry to do so. Let's face it – toy recalls are expensive, and without a defect, TRU is likely stuck with the inventory. Take a write-off? They'd rather leave toys on the shelves for years before discounting.
Removing the Breaking Bad figures from the website is also a win – TRU would much rather have collectors come into stores, where the urges to impulse buy or pick something up for the kids are much stronger.
Outcome: Evil corporations always win.
Breaking Bad and its actors come out as big winners. The show, which had its finale September last year, is back on people's minds. After the news of the protest first broke bad (sorry), I noticed it showing up in the "Popular on Netflix" category. (Netflix has the entire run of Breaking Bad available for streaming. It's also a win for binge watchers!) I wouldn't be surprised if sales of the Breaking Bad DVD set got a nice bump this week too.
And there's nothing better for a spin-off to have its predecessor back in the spotlight – Better Call Saul gets a stronger lead in for its opening next year. (By the way, Mezco – when are we getting a Saul Goodman action figure?)
"Florida mom petitions against Toys 'R Us over Breaking Bad action figures." I'm so mad, I'm burning my Florida Mom action figure in protest— Bryan Cranston (@BryanCranston) October 20, 2014
Here's the petition to sign to keep the toys on the shelves! Why can you sell guns and not Walt and Jesse? YeahBitch https://t.co/8iEFsLBCIn — Aaron Paul (@aaronpaul_8) October 24, 2014
While Bryan Cranston and Aaron Paul have already proven that they can pull in monstrous numbers at the box office, further ingratiating themselves with fans of their work on the small screen will help keep them relevant in an industry where star power and popularity can vanish overnight.
Outcome: Winners gonna win.
Surprisingly, Mezco wins too. With Toys R Us as a buffer, I've got to believe Mezco is insulated from any backlash from the family values crowd. No one is protesting that Breaking Bad toys are getting made – they just don't want them sold where kids could see them. What the protest did accomplish is putting the Mezco brand name smack in the middle of a trending news story.
I think that the 4X pop in world-wide interest in Mezco is bringing them new customers. It's likely that a good portion of Breaking Bad fandom had no idea action figures for the show existed before this controversy – getting fresh eyes on the breadth of Mezco's diverse product line, despite how those eyes got there, will help.
The boost they're getting is presumably so good, that at least one conspiracy theory has cropped up that the Florida mom is actually a Mezco shill. I don't believe that, but if a North Carolina mom protests Sons of Anarchy action figures next week, I might have to subscribe to that newsletter.
Outcome: There's no such thing as bad publicity.
Even the scalpers come out ahead in this game. Remember the controversy surrounding the Django action figures from NECA last year? The MEGO format was proving to be less popular than NECA's traditional 7-inch approach, but try getting the action figures from Django Unchained now.
While prices are starting to get elevated for Mezco's Breaking Bad figures on eBay, it's not quite to Django level yet. That may be because reputable online stores like Entertainment Earth have started promoting Breaking Bad. (I guess they want to win too.)
Outcome: Bottom-feeders are getting small short-term gains, but let's see if they are winning big in a year.
I'd love for this to be a win – win – win – win – win – win story, but as we saw in Breaking Bad, in a drama, someone's gotta lose. And in this one, it's us, the collectors. Once again, we're the ones getting the short end of the stick. First, by protesting the Breaking Bad action figures, the Florida mom has made those collectibles that much harder to get, putting us in the sights of scalpers.
But that's really not the worst of it – all collectors, not just toy collectors, are subject to scarcity and the hijinx that ensue. What's worse is that by protesting the Breaking Bad action figures, the Florida mom has implicitly cast aspersions specifically on our hobby, and by extension, us. Are you an adult who buy toys? You're the Simpsons Comic Book Guy.
Dishearteningly, the first argument that people make in defense of Schrivjer's petition, is that adult toy collectors have no business collecting toys. That we're weird. Flawed. Creepy even. I'm offended. Completely and totally offended. Don't believe me? Check this news article…
via War Waged On Adults Who Collect Toys: Why You Should Be Concerned – Bleeding Cool Comic Book, Movie, TV News.
Unlike Walter White, physically, I'm as healthy as ever… but my hobby is an inoperable condition. I may have to resort to cooking meth, to pay for my treatment.
Outcome: I'm going to Fort Myers to throw a pizza on the roof of a house. That house has a nearly one in three chance of being empty due to abandonment.
I've had my say. Now it's your turn. What's your take on the Toys R Us Breaking Bad protest? Leave your comments below.