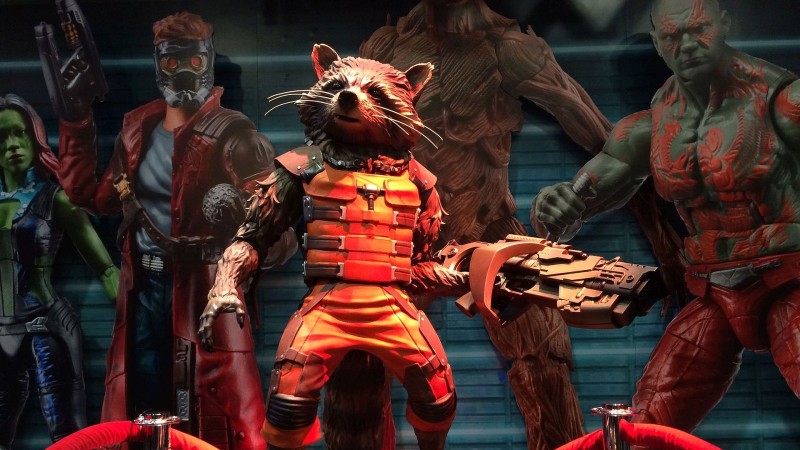 Hasbro had this life-size action figure of Rocket Raccoon (yes, its arms are poseable!) on display at San Diego Comic-Con last year, and after I saw Guardians of the Galaxy, I wanted one for myself. Sure, I got the Marvel Legends figure, but having something at 1/12 scale when you've seen it at 1/1… well, it's just not enough.
Luckily for you and me, if you want a Rocket Raccoon that's big enough to climb a real tree or tree-like friend, you can buy one – even if you're not made of money. Here's a range of options for a life-size Rocket Raccoon for your collection, depending on how many credits you scored for that Infinity Gem orb.
Option 1 – you're loaded, or you don't care what the APR is on your no-limit credit card
Guardians Of The Galaxy: ROCKET – Life-size Collectible Statue – $4,897 plus shipping
This statue is six and a half feet tall (including the base and Rocket's blaster) and weighs a whopping 84 pounds. Rocket makes up 22 pounds of that total. His blaster and base are boxed and shipped separately, for a total of three huge boxes, so some assembly is required. But if you can afford this, you probably have some spare Ravagers around to help you put this together.
Option 2 – somehow you've still got some of that Xmas bonus left over, or you've got a tax refund on the way
NECA Guardians of the Galaxy Rocket Raccoon Full-Size Replica – $299.99 with free shipping
The artists at NECA used the digital assets from the movie to recreate this three foot tall Rocket Raccoon, so you can be assured despite its more accessible price tag that he's accurate to the movie. Each figure in this limited run is hand-painted on foam rubber and latex. You still have to do some assembly, as his tail is a separate piece.
Option 3 – you're more broke than Star Lord, but you still want to have a Raccoon best buddy
Marvel Guardians Of The Galaxy Rocket Raccoon Standee – $29.20 with free shipping to Hot Topic stores option
If you're wondering how you could get a life-size Rocket for under thirty bucks, I won't lie – it's because he's printed on sturdy but relatively cheap (compared to the other options) cardboard. This life-size cutout stands almost three and a half feet tall, and has the added benefit that when you don't want him around, you can just fold up the built-in easel stand and slide him under a bed or into a closet. Plus, there's options if you want both Star Lord and Rocket, or if you want to pair him up with your other BFF, Groot, who clocks in at seven and a quarter feet tall.
There you have it – three options for a life-size Rocket Raccoon, no matter how rich or poor you are. Ain't no thing like Rocket, except Rocket!