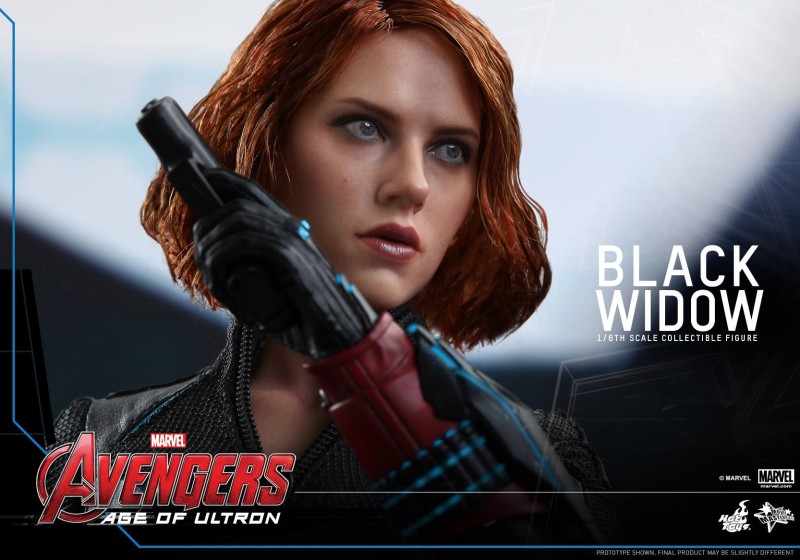 ScarJo as the Black Widow is the latest Avenger from Age of Ultron to get a Hot Toys figure. She joins the Hulkbuster Iron Man, the Hulk, the Iron Man Mark XLIII, Captain America, and Ultron Prime.
I like the costume accents and all the accessories that distinguish this Black Widow from her previous figures from Captain America: the Winter Soldier and Iron Man 2, but still think they may need to make slight tweaks to the head sculpt. Maybe it's those eyes that look to be vaguely focused off in the distance.
Haven't seen the pre-order page go up yet, but I'll be checking Sideshow Collectibles. Avengers Assemble! [Update: The Marvel Black Widow Marvel Sixth Scale Figure is now available to pre-order at Sideshow.]
Avengers: AOU 1/6th scale Black Widow Collectible Figure

"I'm always picking up after you boys."

A new wave of Hot Toys' 1/6th scale Collectible Figures based on the highly anticipated Marvel's Avengers: Age of Ultron is coming as the movie's release date draws near! Today we are excited to present the deadly female member of the mighty Avengers – the 1/6th scale Black Widow Collectible Figure!

The movie-accurate collectible is specially crafted based on the image of Scarlett Johansson as Black Widow in the film featuring a newly painted head sculpt with short curly brownish-red real fabric hair, newly tailored costume with leather-like trims and blue highlights, detailed new weapons and accessories.

Don't forget to add the lethal female agent to your Avengers: Age of Ultron collection!
via Avengers: AOU 1/6th scale Black Widow Collectible Figure.