One week left to fund the project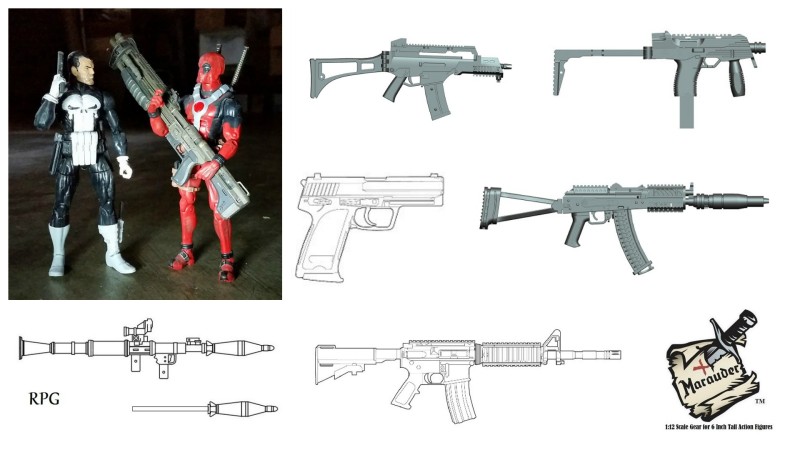 If you're a Marvel Legends collector, then you've probably got at least one Punisher. And that Punisher probably doesn't have enough guns. Not surprising, since he's a decidedly R-rated kind of character being sold in kid-friendly stores – tough to package him with a fully-loaded arsenal.
That's where the Marauder GR 1/12 Scale Gear project on Kickstarter comes in. Marauder wants to do for 6-inch scale figures what they've done for 4-inch – supply an armory of realistic, highly-detailed, and customizable weapons. They've built a great product line for G.I. JOES and other 4-inch scaled figures over nearly a decade, with a product line of over a hundred items. This project is their first foray into 6-inch scale.
There's three pledge levels:
$20 gets you a 6-piece set featuring the weapons above – perfect for outfitting your Punisher or spreading it around your collection
$35 gets you a 12-piece army builder set – 4 AKs74u rifles, 4 M4 rifles, and 4 Commando rifles
and $99 gets you the all-in option – it includes the 6-piece set, the 12-piece set, and every stretch goal item that's unlocked
Marauder has many stretch goals planned. The first is a 6-piece accessory set for the planned weapons – 3 scopes, grip, suppressor, and grenade launcher that you can use to customize with in a modular fashion. Then there's a crazy amount of individual weapons that can be unlocked.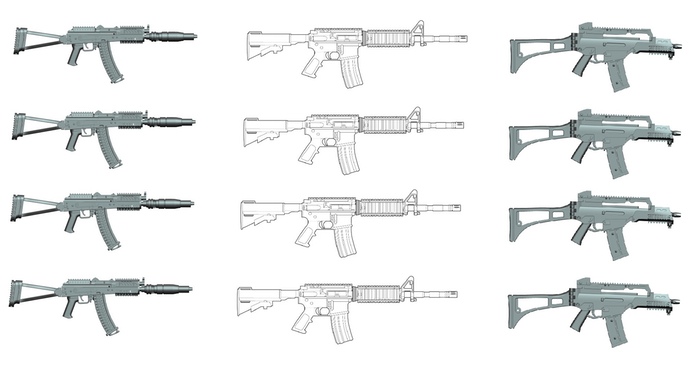 Surprisingly, with one week left in the project's funding period, there's a good way left to go before the project is fully funded – it currently stands at under $3K pledged out of a $14K target. The project needs to get funded before any additional stretch goals can be unlocked too.
I think there's a large potential market out there. I can't think of a single Legends collector who hasn't wanted more guns in the 6-inch scale. Maybe Marauder just needs to get the word out. So if you're interested, please support the project – like, share, and retweet.