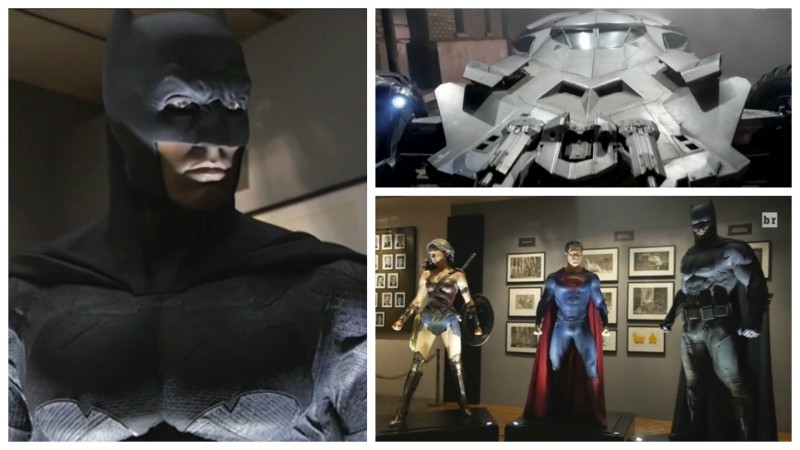 With the Batman v Superman: Dawn of Justice teaser trailer officially released, Warner Bros. has allowed Bleacher Reports to publish a new video yesterday of NBA player DeAndre Jordan on a tour of the Batman 75th anniversary exhibit that's part of the Warner Bros. Studio Tour. The exhibit houses many costumes, props, and vehicles from the Batman movies starring Keaton, Kilmer, Clooney, and Bale – but they surprised Jordan with the costumes and Batmobile from the latest movie too.
With the focus on Batman, the video gives some nice close-ups of the newest Batsuit, including the cowl, the chest emblem, gauntlets, and utility belt. But it also gives a brief glance at the costumes of Superman and Wonder Woman. Not much new with Superman's duds, but with Wonder Woman we get to see how it looks compared to the heavily processed teaser image of Gal Gadot in costume. It looks much more colorful and in line with her palette from the comic books. And then of course, there's a lot of quick cuts showing off the Batmobile. How are you liking them?
DeAndre Jordan Gets Sneak Peek at New Batmobile

There used to be some debate about which NBA player is the league's biggest Batman fan, but Los Angeles Clippers center DeAndre Jordan has officially ended that discussion.

Right before the playoffs, I took DeAndre to the Batman Exhibit at the Warner Bros. VIP Studio Tour Hollywood, and we surprised him with the new Batmobile and superhero suits from Batman v Superman: Dawn of Justice, opening March 2016.

Not only did DeAndre get the full Bruce Wayne treatment from his stylist, Paige Geran, but he was the first person outside Ben Affleck and the film crew to get inside the new Batmobile.

Tickets for the tour: vipstudiotour.warnerbros.com.
Updates for the Batman Exhibit: @WarnerBrosTours.
Follow Lance Fresh: @LanceFresh.
via DeAndre Jordan Gets Sneak Peek at New Batmobile | Bleacher Report.