Glow-in-the-dark Terminator is homage to the classic Kenner line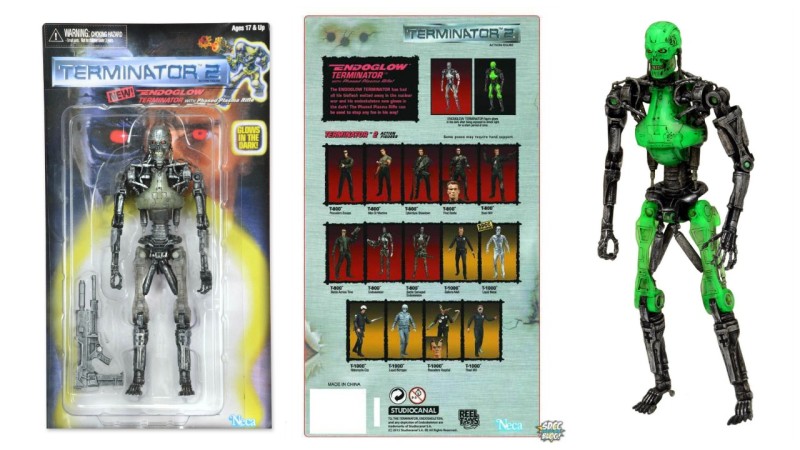 NECA is going retro with a couple of its Con exclusives. The SDCC Unofficial Blog got the first look at the Terminator 2 Retro Endoglow Endoskeleton (that's a mouthful) which will debut at San Diego Comic-Con this July. While the packaging harkens back to the Kenner Terminator 2 line from the 90's, the figure itself has got modern-day sculpt and articulation from NECA. Even if you're not a fan of the GITD gimmick, it's just a paint app that's unnoticeable in normal light, so this figure should fit in nicely with your Terminator figures from previous NECA runs. And since Terminator: Genisys opens this July, with the iconic Terminator endoskeletons virtually unchanged from their earlier incarnations, this could be the start of your Terminator army if you don't have one yet.
Action Figure Insider revealed the other Kenner retro exclusive – a nifty translucent Ambush Predator that includes a couple of interchangeable vac-metal masks. Both the Terminator and Predator exclusives will be available at SDCC, other regional cons, and presumably online. Terminated.
EXCLUSIVE: NECA Unveils 'Terminator 2 – Retro Endoglow Endoskeleton' Action Figure Con Exclusive

NECA is always one of our favorite dealers at San Diego Comic-Con – their toy lines and exclusives typically combine retro nostalgia with beautiful design, making for some really exciting pieces. For this year, they've already showed off their first con exclusive, an AlienAmbush Predator, based on classic Kenner Mail-Away Ambush Predator Figure.

We've got the honor of revealing their next exclusive as part of #T2sday, which also combines the future with the past: the glow-in-the-dark Terminator 2 – Retro Endoglow Endoskeleton Action Figure.

The 7″ figure is a tribute to the classic Kenner Terminator 2 line of the early 1990's, but NECA has built upon that design by applying modern sculpting, detail and articulation to upgrade the figure for modern fans. The Endoglow Endoskeleton features over 25 points of articulation and comes with plasma rifle accessory. It also really glows in the dark after being exposed to light for a short time.

The special blister card packaging is an homage to the classic card art as well, and features a visual checklist for every NECA Terminator 2 figure to date. Here's a look at the packaging:

You'll be able to grab the figure this summer at San Diego Comic-Con, and then at select other conventions later this year.

What do you think of NECA's Retro Endoglow Endoskeleton Action Figure? Let us know in the comments.
Source: EXCLUSIVE: NECA Unveils 'Terminator 2 – Retro Endoglow Endoskeleton' Action Figure Con Exclusive | San Diego Comic-Con Unofficial Blog