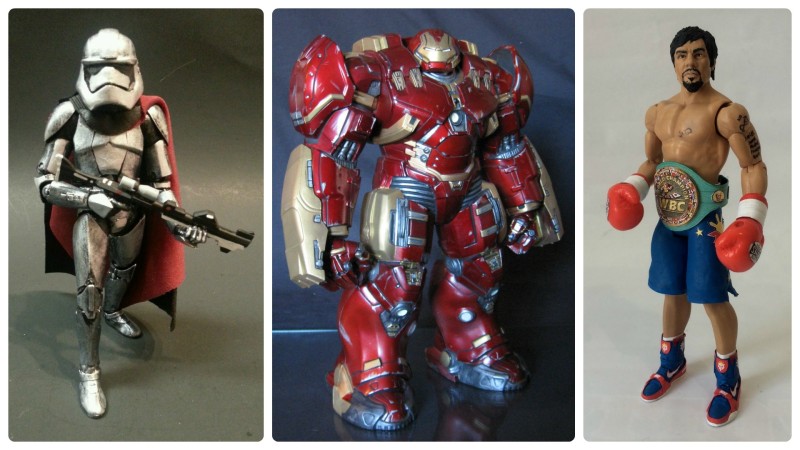 For this edition of Border Patrol, we've got three custom action figures from the big (or little) screen.
Star War Black Series Chrome Trooper Captain Phasma by moomoo1366: One of the many exciting moments of the Star Wars: The Force Awakens teaser trailer is the appearance of a blinged out Stormtrooper. Captain Phasma, or the Chrome Trooper, is played by Gwendoline Christie, Game of Thrones' Brienne of Tarth. That means she's gonna be a bad-ass! Ends Wednesday, May 6, at 10:24AM PST
Marvel Legends Hulkbuster Iron Man by ingencorp_custom_figures: Even if you haven't seen Avengers: Age of Ultron, you know that the fight between the Hulk and a pumped-up Iron Man is one of the highlights of the movie. This custom just goes to show you what a little paint can accomplish – that's a Titan Tech series Iron Man, if you can believe that! Ends Wednesday, May 6, at 8:04PM PST
Manny Pacquiao by lucharaaan: Despite being defeated by Floyd Mayweather Jr. in a unanimous decision, the Pac-Man still reigns as the popular champ. While I've seen some vinyl customs of the pair leading up to their fight, I haven't seen any of Floyd since his win. Ends Saturday, May 9, at 7:53AM PST
In AFP's Border Patrol, we scour active eBay auctions for customized action figures that you won't want to let slip by!