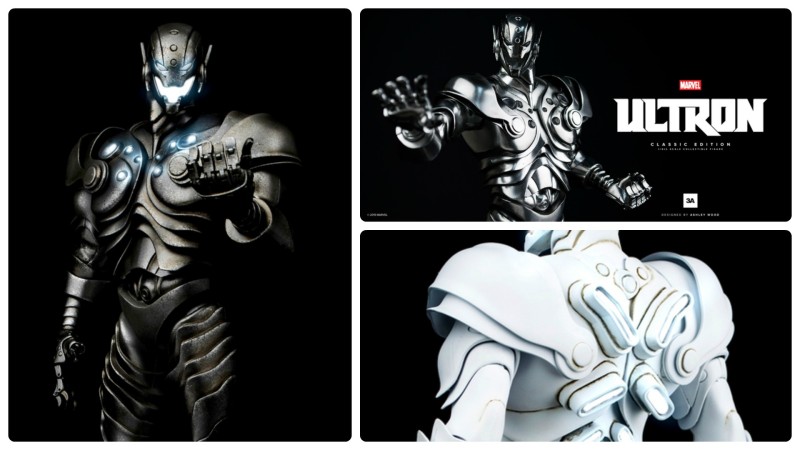 I might still be in afterglow from seeing Avengers: Age of Ultron this past weekend, but I think Ultron may be the best Marvel figure to come from 3A Toys yet. Like their previous releases of Iron Man and Doctor Doom, Ultron will be available in three colorways – I am not sure if I prefer the plated chrome "classic" or the brushed metallic "stealth" version (the ghost white is not my thing).
Ultron will feature the Ashley Wood touches that we've seen in the other 3A releases, like the individually articulated fingers and over-sized feet, while some elements remain absolutely faithful to the Marvel design, especially Ultron's head. The figure will have LEDs in the eyes, mouth, and chest – I was hoping for red, but they'll be a bluish-white.
For the time-zone challenged, Ultron goes up for pre-sale at Bambaland on May 6 at 6PM PST.
MARVEL | ULTRON – ON SALE MAY 7TH!

MARVEL | ULTRON
May 7th 2015 at Bambaland!
09:00 Hong Kong Time
1/6th Scale Collectible Figure
Designed by Ashley Wood

Ultron, the sentient A.I. created by Hank Pym, who notoriously rebelled against his creator, causing havoc the world over time and time again. Ashley Wood upgrades the classic villain with a new look featuring plated armor and illuminated details.

Classic, Stealth, and Ghost Editions
13 Inches (33.5cm)Tall
Fully Posable including Articulated Fingers and Plated Armor design
LED illuminated Eyes, Mouth, and Chest

USD $220
Price Includes Free Worldwide Shipping