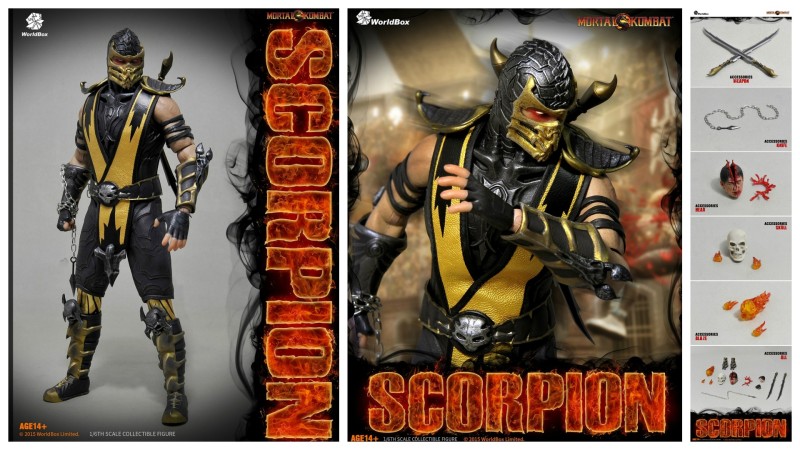 I picked up the WorldBox Mortal Kombat Sub-Zero, their first figure in the line, and have been very pleased with it. But Sub-Zero has been very lonely… until now. They've just revealed the bad-ass ninja himself, Scorpion.
Like Sub-Zero, Scorpion comes loaded with accessories. He's got three different head sculpts – a regular masked head, his skull, and a fatality-inflicted Kung Lao head. (I had skipped the Kung Lao release, but now that I know that I can split his head open, maybe it's time to pick him up!) He's got a couple of pairs of hands, so he can wield his twin swords or throw his kusarigama, aka harpoon. He also comes with some fireballs and blood effects.
I haven't seen him up for pre-order yet, but when I do… GET OVER HERE!
[World Box]1/6 Mortal Kombat – Scorpion

The 1/6th Scorpion Collectible figure features:

1:6th durable body, approximately 30 cm tall
There are some weathering effects on the figure.
Three (3) head sculpt, each one is specially hand-painted.
Fully realized the body covered with Scorpion armor

PARTS:

Four (4) interchangeable hands including:

One (1) open hands
One (1) clenched fist
One (1) pair of hand for holding sword

COSTUME:

One (1) golden ninja vest
One (1) pair of arm protectors
One (1) pair of boots

WEAPON:

Two (2) Sword
One (1) Kusarigama

ACCESSORIES:

One (1) Broken head of Kung Lao
One (1) Bloodsoaked
One (3) Flash for magical effect,fireball

Release Date: Late Q3, 2015
**PROTOTYPE SHOWN, FINAL PRODUCT MAY BE SLIGHTLY DIFFERENT
**PRODUCT DETAILS SUBJECT TO CHANGE WITHOUT NOTICE
Source: Product Announcement [World Box]1/6 Mortal Kombat – Scorpion – OSW: One Sixth Warrior Forum