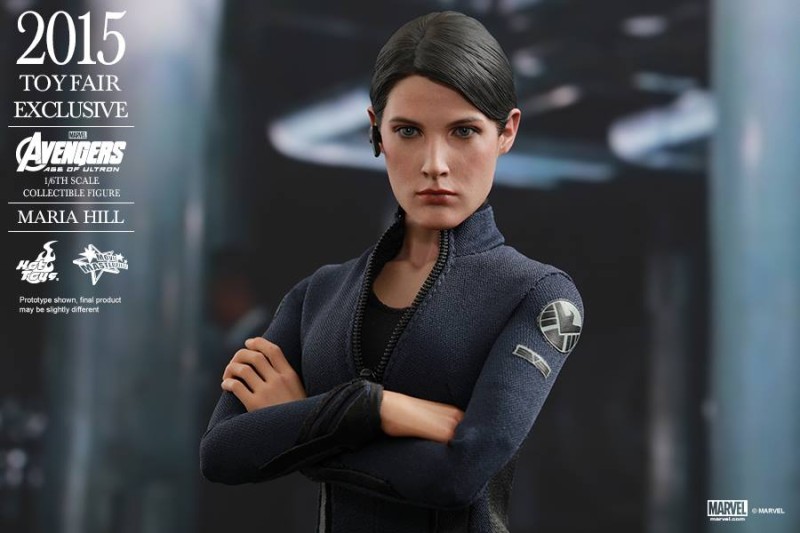 Avengers fans have been waiting for SHIELD Agent Maria Hill for a while now. I think when Hot Toys made Nick Fury and then Agent Coulson, it was clear that they could go wide and deep in the franchise. Now that they've announced Maria Hill, I believe that leaves only Quicksilver as the sole remaining main character from the Avengers ensemble that's left to do. And if you want to go even wider and deeper, there's still Dr. Erik Selvig available.
Maria Hill is a "Toy Fair" exclusive – in Hot Toys parlance, that means that she's available only at various toy shows this summer. We first saw the Hot Toys Maria Hill at SDCC – while her expression is a bit stoic, I think it's a pretty good likeness for Cobie Smulders. But since they're the official distributor of Hot Toys in the United States, you can pre-order the Marvel Maria Hill Sixth Scale Figure from Sideshow Collectibles. Happy shopping!
Avengers: AOU 1/6th scale Maria Hill Collectible Figure

Maria Hill has been an important character in the Marvel Cinematic Universe where she has assisted Nick Fury and the Avengers when faced with dangerous situations and their adversaries.

Fans have been longing for the 1/6th scale collectible figure of this tough and clear-headed female agent and now Hot Toys is thrilled to introduce the new 1/6th scale Maria Hill Collectible Figure based on Avengers: Age of Ultron as one of the 2015 Toy Fair Exclusive items!

The movie-accurate collectible is specially crafted based on the image of Cobie Smulders as Maria Hill in the film featuring a newly developed head sculpt, finely tailored outfit, weapon and accessories, and an Avengers: Age of Ultron themed figure stand.

Agent Hill will be a great addition to your Avengers: Age of Ultron collection.
Source: Avengers: AOU 1/6th scale Maria Hill Collectible Figure