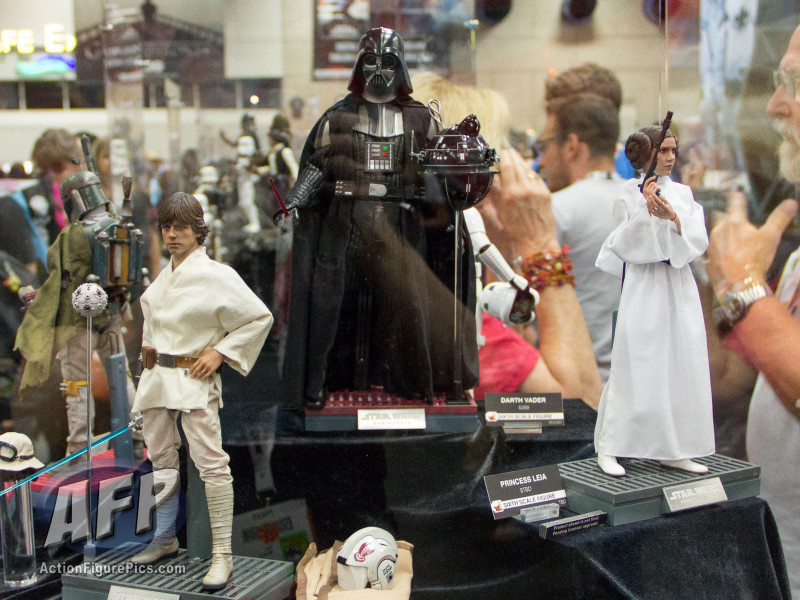 One booth stop I must make every year at Comic-Con is Sideshow Collectibles, to see the Hot Toys they've got on display. But it's a bit of an odd licensing vs. distribution conundrum this year, for all parties involved. Hot Toys has started cranking out the Star Wars figures, and Sideshow is their distributor in the States. But Sideshow has also held their own Star Wars license for longer than Hot Toys has. Coopetition?
Let's see what Hot Toys has done in the short time they've held their Star Wars license, and see what else they're up to.
It felt like a ton of Hot Toys Star Wars was on display. So much so that I didn't even take pictures of the Leia figure, which I had seen teased but not anything else. In addition to the Chewie and Han figures on display in the standard cases, there was a huge 1/6 Millennium Falcon cockpit with the pair piloting it.
I enjoyed Iron Man 3, but this damn House Party has to end sometime. Actually, I think it's pretty cool that there are so many armors to choose from, and that Hot Toys is finding a way to keep making them. But I also feel sorry for the collectors out there that feel compelled to try to be completionists on Iron Man.
Hey, look at that – more Iron Men! 😀 The complete evolutionary arc of Iron Legion -> Ultron(s) -> Vision is in the Avengers line. The fleshbags are represented well too, with Maria Hill (and a damn good likeness to Cobie Smulders) finally making the line. Dr. Erik Selvig has had supporting or cameo appearances in four Marvel movies – could Hot Toys ever go that deep in their character selection? And people are wondering if Quicksilver will get a figure. I don't think they could make a Scarlet Witch and not make Quicksilver, but I guess Tonto and the Lone Ranger might differ.
Ant-Man opens next week. If the movie is as excellent as everyone who has seen it is saying, then he'll get an even better suit for the Avengers or a sequel to his own movie. Seeing all the redesigns the Avengers have gotten, and how the costumes have improved each time, I think it makes sense to see what the future will bring.
And speaking of time travel, there's been enough bad buzz on Terminator: Genisys that I won't be able to see it with my wife with any good conscience. She's tolerant of a lot of the movies we've gone to together, but time travel sci-fi movies in particular bug her. Despite all this, "Old Man" Ahhhnold looks pretty good for an action figure of his age.
We're going to look at some of Sideshow's own homegrown offerings next.