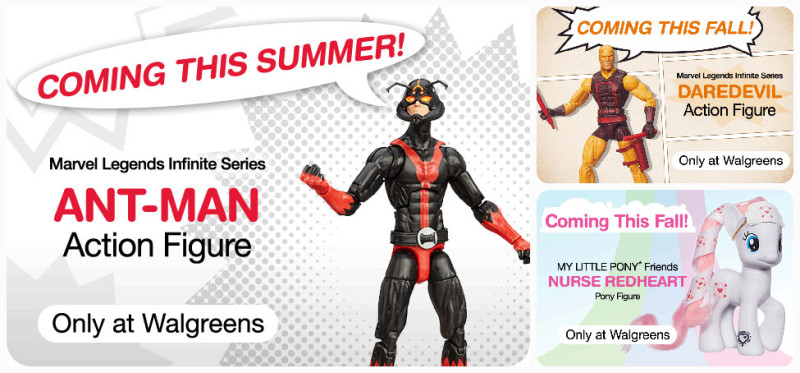 If you check out the Walgreens site for their exclusive Marvel Legends Ant-Man and Daredevil, right now you'll see teasers for both Marvel Legends figures plus a third Hasbro exclusive for My Little Pony. We first saw the Ant-Man and DD variants at SDCC – they look great. According to Marvel's announcement, Ant-Man should be going on sale at Walgreens on July 20. I'm guessing sometime in September for Daredevil.
For those of you not familiar with these looks, Ant-Man is in his Black Ant costume, and it's supposed to be Eric O'Grady (the third Ant-Man, after Hank Pym and Scott Lang) under there. O'Grady was originally the Irredeemable Ant-Man, a fun take on the character by Robert Kirkman that explores what happens when a not-so-good guy gets his hands on Pym's latest suit. While the Black Ant look is cool, I'd also love to get him in his Irredeemable costume.
The yellow and red Daredevil costume is DD's original costume, before he donned the all red suit. The costume got featured again in Daredevil: Yellow by Jeph Loeb and Tim Sale, a recounting of DD's origin.