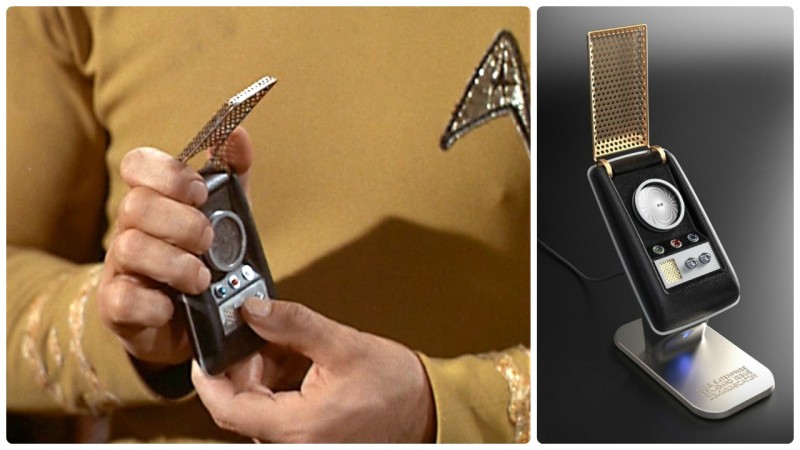 It's commonly believed that the original Motorola Flip Phone was inspired by the Star Trek Communicator. Now, we're coming full circle, with the Star Trek Blue Tooth Communicator accessory for your smartphone. Hardcore Trekkers have been putting together their own Bluetooth-enabled Communicators by hand for years, but with this official product, you'll be able to flip open your own Communicator to make and answer calls from Engineering (or your mom, or anyone in the galaxy), or even use it as a portable speaker for hands-free calls or listening to your favorite William Shatner spoken word album. It wirelessly charges on its magnetic stand, and it's loaded with Star Trek Communicator sound effects and sound bites from the show.
This official replica Bluetooth device is made by the Wand Company, the good folks who make the Star Trek Phaser remote control (available to purchase at ThinkGeek and the official Star Trek site.) While I never could convince myself to pick up the remote control, because I just don't watch enough TV, it'll be really tough for me to resist this Communicator – I use my smartphone a lot.
The Communicator will be officially unveiled at San Diego Comic-Con and demonstrated at the ThinkGeek booth #3351, starting tomorrow at Preview Night. I'm going to stop by to check it out. For those of you who can't wait, you can pre-order the Star Trek Blue Tooth Communicator at the official Star Trek site, and I imagine it will be listed at ThinkGeek pretty soon.
Star Trek The Original Series Communicator Bluetooth Handset

For nearly 50 years, 700 hours of content from six television series and eleven movies, has made Star Trek into an entertainment and pop culture icon across the world. With its visionary philosophy and thrill for adventure, Star Trek continues to boldly go into new territories, as the rebooted film franchise goes on to wow new audiences. The Wand Company's Star Trek Original Series Communicator is the most accurate replica ever made, designed using the first ever structured-light 3D scans taken of the Alpha Hero Prop, crammed full of advanced technology, bringing new levels of action and immersion for Star Trek fans of all ages.

First fully working wireless Communicator
Bluetooth® Handset for pairing with Bluetooth® enabled mobile cellular phones
Made in response to countless requests from Star Trek fans all over the world.
Constructed from pressed metal, die cast metal, machined aluminum and textured ABS to replicate the original hero prop
Magnetic stand, with metal base and multi-colour LED charge status illumination
Built-in lithium polymer battery with wireless charging, just place on stand to automatically charge the power cell
High quality molded polyurethane foam-lined transit case
High quality speaker, great for hands-free calls and even playing music streaming from any bluetooth enabled audio player
High quality MEMS microphone for crystal clear call quality
Will delight collectors
Wide range of authentic sound effects and conversation fragments from the Star Trek Universe
Is a cosplayer's dream come true

Available for Pre Order. Shipping January 2016
Source: Star Trek The Original Series Communicator Bluetooth Handset | Star Trek Store