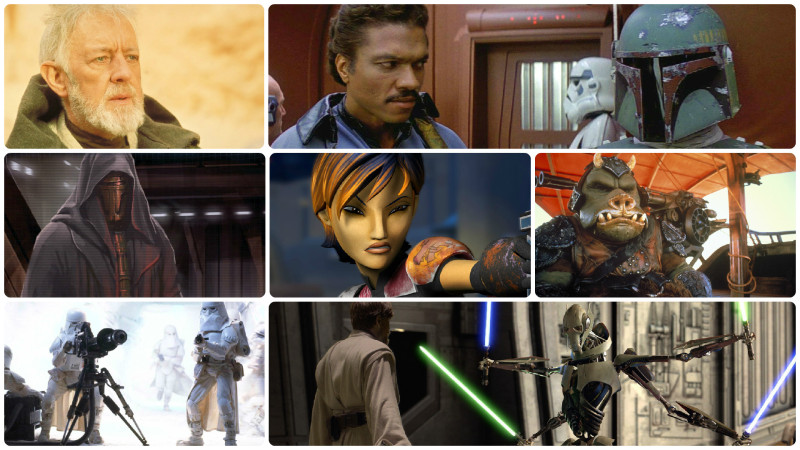 Thanks for participating in nominating the seven finalists in Hasbro's first Fan Choice for Star Wars: Black Series. We were told there'd be six, but I'm guessing the results for the nominations were too close to call.
They are: Ben (Obi-Wan) Kenobi (A New Hope), Lando Calrissian (The Empire Strikes Back), Darth Revan (Knights of the Old Republic), Sabine Wren (Star Wars Rebels), Gamorrean Guard (Return of the Jedi), Snowtrooper (The Empire Strikes Back), and General Grievous (Revenge of the Sith). It's a very nice representation across the movies, video games, and animated series.
Vote for the Fan Choice for Star Wars: the Black Series on StarWars.com! Poll closes on July 10, when results are announced at San Diego Comic-Con. Who is your pick? (I'm going with Lando.)
POLL: VOTE FOR THE NEXT STAR WARS: THE BLACK SERIES 6-INCH FIGURE

Choose between a deadly Sith, a smooth-talking smuggler, and more fan favorites!

Which icon of a galaxy far, far away will be the next to join Hasbro's critically-acclaimed, highly-detailed, and all-around awesome Star Wars: The Black Series line of 6-inch figures? It's up to you — starting now!

The results are in from qualifying-round polls for Hasbro's Fan Choice Black Series figure, and you can now cast your vote to decide the winner. Finalists include favorites from across the saga and across mediums, including movies, video games, and animation, promising an exciting addition to the line. (We were really hoping for Kitster. He would've been wizard. Oh, well.)

The poll will be open right up until Hasbro's San Diego Comic-Con Star Wars panel on July 10, where a winner will be announced. Until then, exercise your galactic right and vote!
Source: Poll: Vote for the Next Star Wars: The Black Series 6-inch Figure | StarWars.com