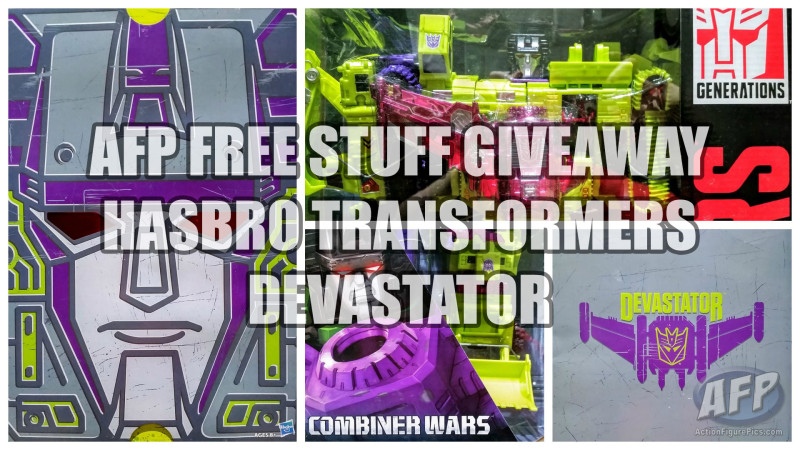 We haven't done an official AFP Free Stuff Giveaway in a while, but this one was worth the wait (if we do say so ourselves!) Our good friends at Hasbro were kind enough to send us a Transformers Combiner Wars Devastator, and since we're going to the big show ourselves, we want to do our readers a solid and give you a chance to win this big boy.
If you don't know about him, you can check out more about Devastator and the rest of Hasbro's exclusives for San Diego Comic-Con. Suffice to say, this is one you don't want to miss. And we're making it easy to enter. Good luck!
How to Enter – you can get up to five chances to win!
Like AFP on Facebook, *and* like and share this post.
Follow AFP on Twitter, *and* retweet this tweet.
Follow AFP on Google+, *and* +1 and share this post.
Follow AFP on Instagram, *and* like this picture.
Add a comment in the Comments section below. (Note: You will need to register for a Livefyre account with your email address. Your email address will not be displayed, and we'll only use it to contact you in case you are the lucky winner.)
One lucky winner will be selected at random!
Entry Deadline
The submission deadline is Sunday, July 12, 2015. We will contact the winner via their social media channel or email address, and we'll announce the winner shortly thereafter.
Shipping Costs
Because of Devastator's size and weight, for this giveaway, the winner will be responsible for the cost of shipping. If the selected winner doesn't agree, we'll choose another winner at random.
Item Condition
The packaging for Devastator has normal wear and tear from shipping, and will likely have some more wear and tear from being shipped a second time. We've also sliced a couple of pieces of tape so we could photograph the item with the outer slipcover removed. We have not opened the package any further, and with the exception of the tape, you'll get everything as we got it from Hasbro, you lucky SOB! 😀
Now for some more pics!
The Fine Print
Official entry period ends at 11:59PM Pacific time on July 12, 2015.
Winner will be randomly selected from entries meeting the entry criteria.
Winner can select the method of shipment and are responsible for covering the shipping costs. ActionFigurePics.com will not be held responsible for lost shipments.
We'll contact the winner via their social media channel or email address. They will have 24 hours to respond with their shipping information and provide cost of shipping. If the winner does not respond within allotted time or does not agree to pay shipping costs, we will randomly select another winner.
Staff members at ActionFigurePics.com and Hasbro are not eligible for this contest (sorry guys!)
By accepting the prize, the winner agrees to hold ActionFigurePics.com, Hasbro, and their respective directors, officers, employees and assigns harmless against any and all claims and liability arising out of the use or redemption of the prize.