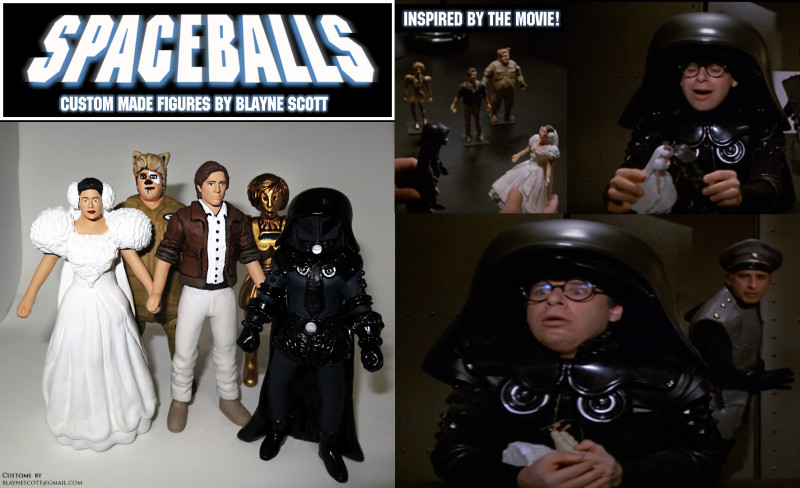 SPACEBALLS – THE (custom) ACTION FIGURE SERIES
5″ tall statue figures of DARK HELMET, LONE STARR, BARFF, PRINCESS VESPA, and DOT MATRIX. Inspired by the 1987 Mel Brooks film.
---
DARK HELMET
LONE STARR
BARFF
PRINCESS VESPA
DOT MATRIX
---
Entry by: Blayne
E-Mail:  [email protected]
Websites: http://blaynescott.blogspot.ca/ | http://blayne.dark-ware.org/
Recipes:
These figures were made for a friend who requested that they be taller than 3 3/4″ figures, but not as tall as 6″, so each figure is a unique sculpt.
Sculpted over the course of 6 months using pieces of Star Wars: Black 6″ figures (Han Solo's face, Slave Leia's Face, Barf's NECA figure boots), the rest of the figures were sculpted using Aves Apoxie Sculpt over coat hanger wire, tinfoil (to reduce figure's weight), and assorted chunks of plastic to ensure the correct build.
Dark Helmet's headgear was created using a papercraft model which was exported into .obj format, re-modeled to be a water tight, printable model, and produced using Shapeways as two parts. The printed pieces were then resculpted with a layer of Aves.
All figures are painted with MR. Hobby lacquer paints, with finishing details accomplished using Vallejo acrylics mixed with Vallejo varnish. Figures were sealed with two coats of Mr. Hobby Super Matte spray.
KrazyGlue superglue was applied over some section to prevent paint-rub, and to achieve a smooth hard lacquered look (i.e: Dark Helmet's outer helmet).
More CustomCon