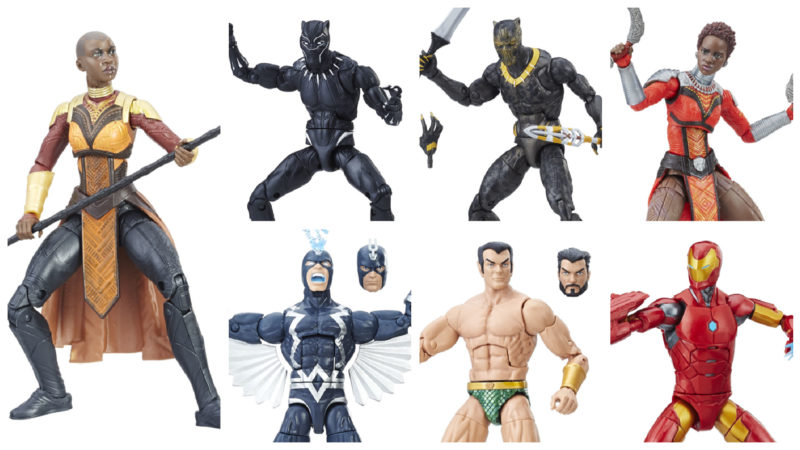 We've known about three of the figures from the wave – Black Bolt, Namor the Sub-Mariner, and the Invincible Iron Man – for a while now, and have just been waiting for Hasbro to reveal what we all presumed would be based on designs from the Black Panther movie. Hasbro did not disappoint!
At London's MCM Comic Con, they revealed the final three figures and the build-a-figure. Naturally, movie Black Panther is the head-liner for the wave. He's joined by Erik Killmonger and Nakia for the final three individually-carded figures. The build-a-figure is Okoye, Nakia's compatriot in the Dora Milaje, Black Panther's elite bodyguards.
Okoye's parts are split across five figures. Black Panther gets Okoye's head. Nakia has her torso and spear. Namor has her arms. And Black Bolt and Killmonger each have a leg. Iron Man, who will ship with an alternate Tony Stark head, doesn't look to include any BAF parts in his package.
MARVEL BLACK PANTHER LEGENDS SERIES 6-INCH Figure Assortment
(Ages 4 years & up/Approx. Retail Price: $19.99/Available: January 2018)
Fans can create a legendary kingdom with this LEGENDS SERIES assortment! Each figure features intricate deco and premium articulation in 6-inch scale, as well as a different Build-A-Figure piece. Collect all the figures in the wave to complete the impressive OKOYE Build-A-Figure. Includes characters from the comic books and BLACK PANTHER movie, such as BLACK PANTHER, ERIK KILLMONGER, and NAKIA. Each figure sold separately. Available at most major retailers and on HasbroToyShop.com.