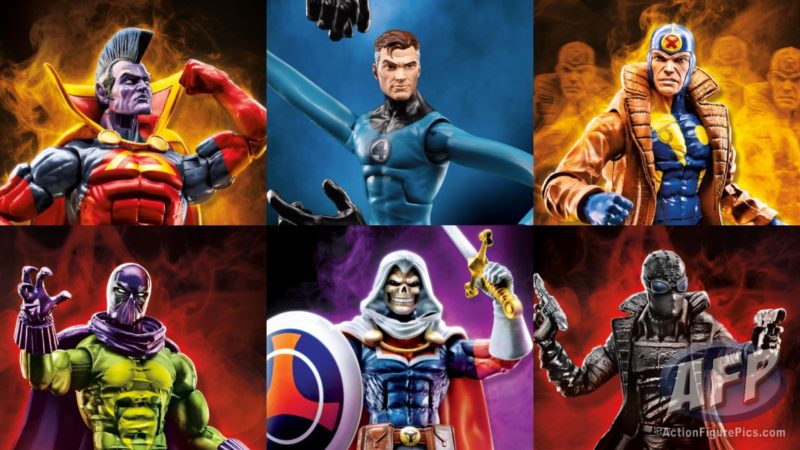 This morning, the Hasbro Marvel team held a roundtable meeting for online media for New York Comic Con, and we were lucky enough to be there. I'll be putting together the 360 degree video tonight and should have it posted tomorrow. [Update: video posted below.]
In the meantime, here's a summary of the Hasbro reveals from both HASCon a couple of weeks ago and NYCC today. For completeness, I'll include the prior reveals from San Diego Comic-Con. So far we've got a pretty deep look into 2018.
Hasbro Marvel Team Deskside Interview Video
Jeff Labovitz, Ryan Ting, and Bobby Vala from Hasbro's Marvel Brand Team hosted a "deskside" interview with online media sites to discuss the relaunch of Hasbro's Marvel Mighty Muggs vinyl figure line and to share the latest reveals for the Marvel Legends 6- and 12-inch lines.
Spider-Man Legends
At HASCon, Hasbro revealed Spider-Woman Jessica Drew for the Spidey wave. Today, they added Prowler and Spider-Man Noir. These three join Gwenpool, Lasher, Mysterio, and Spider-Punk. Lizard is the Build-a-Figure for the series.
Black Panther Legends
With Black Panther opening in February next year, I'm a little surprised that Hasbro has only revealed figures based on the comics. It's likely that Marvel Studios has asked them to keep a wrap on the movie designs.
At HASCon, Hasbro revealed a new Invicible Iron Man figure and a ToysRUs exclusive 2-pack with Klaw and Shuri. Iron Man joins Black Bolt and Namor, who were revealed at San Diego Comic-Con.
Avengers Infinity War Legends
Here's another case of movie designs being held back. Infinity War opens in May. Thus far, Hasbro has revealed King Cobra at HASCon, Taskmaster at NYCC today, and Songbird back at San Diego Comic-Con.
Deadpool Legends
Hasbro revealed Paladin for the Deadpool Legends wave that should hit shelves around the time Deadpool 2 hits theaters in June. He joins Cable, Deadpool, Deathlok, Domino, and X-23 in the wave. Alpha Flight's Sasquatch is the Build-a-Figure.
X-Men Legends
At San Diego Comic-Con, Hasbro teased the Apocalypse Build-A-Figure for the wave. When you consider there's already an X-Men heavy Deadpool wave already in the works, it's like we're getting a bonus mutant wave in 2018.
Hasbro then revealed Psylocke, Storm, and Wolverine at HASCon. Today, they added Gladiator and Jamie Madrox, the Multiple Man, to the wave. I don't think the Gladiator deco has changed since the Thanos Imperative SDCC set from a few years back. Madrox will come with three interchangeable heads.
Retailer Exclusives
In addition to the TRU exclusive Shuri and Klaw 2-pack referenced in the Black Panther section, Hasbro also has Thanos coming to Walmart and Fantastic Four's Mister Fantastic coming to Walgreens. The Thing has been confirmed as a completely new sculpt.
Marvel Mighty Muggs return!
Hasbro's very excited to be getting back into the designer vinyl segment of the market, which they ceded to Funko Pops back when Muggs went on hiatus a couple years ago.
The revamped line now boasts an action feature – press down on each figure's head, and it cycles through three different expressions. Hasbro designed new packaging to allow people to change the facial expression while still in package, in case you want to keep them trapped in their plastic prisons.
Black Widow, Captain America, Groot, and Spider-Man were the first new Marvel Mighty Muggs revealed for the line.
I'm not expecting any major reveals until Toy Fair next year, but we'll let you know if Hasbro reveals anything more for their 2018 lineup.