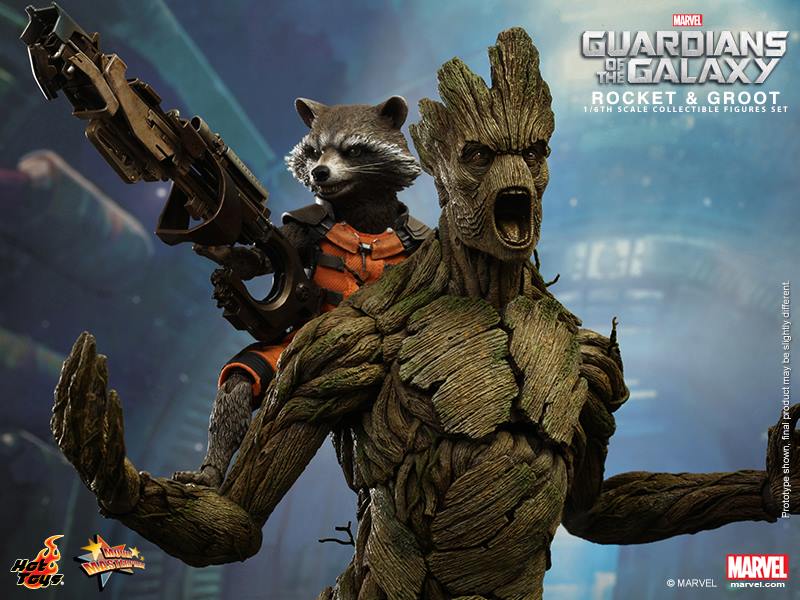 We've been relaxing before the madness of San Diego Comic-Con (we're on our way down south shortly), but I couldn't leave without posting some awesome updates from Hot Toys with my most anticipated movie for this summer – Guardians of the Galaxy. The Guardians of the Galaxy movie premiere was this past Monday, and while I intentionally haven't read a lot about it, I've heard the press screenings have been very well received. Hype building… too much!
On the other hand, I've not gotten enough of the press pics of the upcoming Hot Toys figures for Guardians. A few days back, Hot Toys posted pics for three pre-orders – Rocket Raccoon, Groot, and a special 2-pack set with Rocket and Groot – all available at Sideshow Toys. I'll do my best to resist the 2-pack, which comes with an alternate angry head sculpt for Groot. "Hroom, hm, come, my friends. The Ents are going to war." I meant, "I am Groot!"
And to top it off, they also teased Star-Lord, who should be present at the Sideshow booth at SDCC 2014. I hope Gamora and Drax show up too. Read on for more of Rocket, Groot, and Star-Lord, and come back tonight for Preview Night coverage!
» There's more… click to continue reading Hot Toys Hypes the Guardians of the Galaxy Leading into SDCC 2014