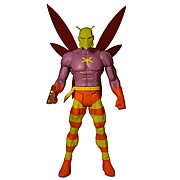 It's that time of year again!  Entertainment Earth is holding one of it's big inventory clearance sales, and that includes action figures.
They're saying it's up to 80% off – most of the things I am interested are between 30 – 50% off.  That includes DC Universe Classics, Halo, and GI Joes.
For example, at the Mattel DC Panel at San Diego Comic-Con, a very upset fan was lamenting the lack of availability of Killer Moth.  Well, upset fan, Killer Moth is on sale right now for $8.80!  Buy him now!  No more tears!
With sales like these, things sell out quickly, so don't procrastinate!
Summer Blowout Sale!

Thank you for your business! To show our appreciation, we're marking down items up to 80% off! Buy action figures, games, and collectible statues and busts at our lowest prices ever! Star Wars, Star Trek, Spider-Man, and more are on sale. But hurry… our limited stock won't last long at these prices!
via Summer Blowout Sale! Shop – Summer Blowout Sale! Action Figures, Toys, Bobble Heads, and Collectibles at Entertainment Earth.