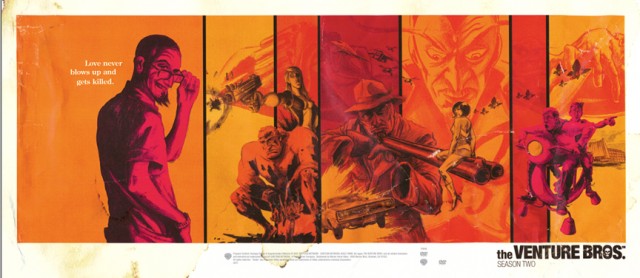 In a broad announcement yesterday, Bif Bang Pow! announced that it will be partnering with EMCE Toys to produce retro-styled action figures across its licenses, including the Venture Bros.  EMCE Toys makes licensed reproductions of the original Mego toys and packaging, and also creates new toys based on the style of toys in the '70s and '80s.  EMCE was cofounded by Paul "Dr. Mego" Clarke, and is also currently working with Mattel on their Retro-Action DC Super Heroes line.
For those keeping track, the first wave of the Venture Bros. line was revealed in an Adult Swim Bump – it will include Dr. Venture, Brock, the Monarch, Hank, and Dean.
I asked Jason Lenzi from Bif Bang Pow! if they plan to produce Venture Bros. figures in other styles, and he said that it will depend on the support the line gets.  The concept as discussed with Venture Bros. creator Jackson Publick at San Diego Comic-Con last year was for figures with a "retro" vibe, as that would fit best with the show.  But they're keeping their options open.  Lenzi says, "we've got the license for a long time, and fully plan on exploring all scales of action figures. Including vehicles! Stay tuned!!"
We should have plenty of pics of the prototypes when we hit up Toy Fair in a couple of weeks.
Bif Bang Pow! to Produce '70s Style Action Figures Based on Some of the World's Most Popular Properties

LOS ANGELES, CA (February 2, 2010) – Announcing one of the widest ranges of highly articulated 8-inch retro-style action figures in years. In cooperation with EMCE Toys, Bif Bang Pow!™ is proud to bring the original "'70s style" of play to a brand-new line of articulated action figures based on some of the world's most popular properties.

Reproductions reminiscent of the best-selling action figures of the 1970s and early 1980s, these highly articulated figures will feature body designs by EMCE Toys. Each 8-inch scale figure will include real cloth clothing and plastic accessories where appropriate.

Over 40 licensed action figures are planned for 2010. The first are targeted for an early summer arrival and Comic-Con International: San Diego 2010, with others to follow later in the year. Included are much-demanded characters from:

The Venture Bros.™ (Cartoon Network)
Dexter™ (Showtime Networks)
Lost™ (ABC Disney)
The Big Lebowski™ (NBC Universal)
The Twilight Zone™ (CBS)
Flash Gordon™ (King Features)
Scott Ian (Anthrax)

The Venture Bros.™ creator Jackson Publick, who has been working closely with Bif Bang Pow! to bring these to market, noted that the upcoming figures are "very impressive and extremely faithful to the characters, while also finding a very comfortable middle ground between 2-D and 3-D design. Bif Bang Pow! has deftly solved a number of design problems I thought anyone attempting a 3-D interpretation would get thrown off by. Brock, especially, is going to make the fanboys crap themselves. Let's show these to the world already!"

"We're very excited about launching this new range of action figures. For the first time in Bif Bang Pow! history, all of our licenses will be living in the same universe. So if you've always wanted Dr. Girlfriend to seduce Dexter Morgan, or for Ming™ the Merciless to fight The Dude, now's your chance!", said Jason Lenzi, CEO of Bif Bang Pow! "And the exceptional articulation makes the posing possibilities virtually limitless, which comes in handy for animated characters!"

"The 8-inch format hasn't seen this breadth of licenses since its peak during the Mego days," said Joe Sena, President of SphereWerx, corporate parent of the EMCE Toys brand. EMCE partner Paul "Dr. Mego" Clarke added, "It is exactly this intention to mix a variety of characters into imaginative play that started my journey to bring this format back ten years ago. We're honored that Jason and his team sought us out to 'Mego-ize' the licenses he holds."

Visit bifbangpow.com often for updates, specific character announcements and images. Pre-orders begin today for select items at entertainmentearth.com and other fine retailers.

Retailers and press can see the first prototypes at New York Toy Fair, February 14-17, 2010, at the EMCE Toys booth #4944. For sales and to schedule an appointment while attending New York Toy Fair, please contact your EE Distribution account representative or Jenna Banks, Sales Manager, at 818-255-0090 x128 / [email protected] in advance.
via Bif Bang Pow!: Bif Bang Pow! to Produce '70s Style Action Figures Based on Some of the World's Most Popular Properties.