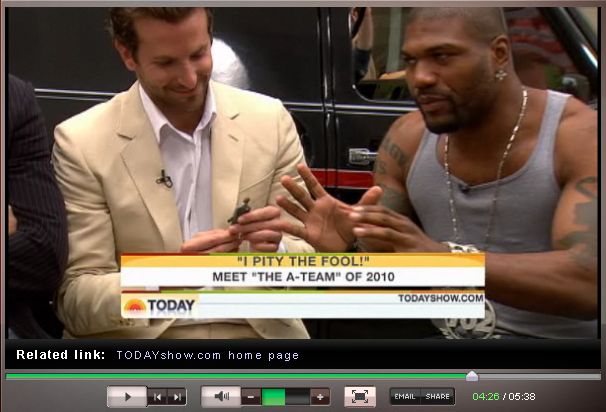 The stars of the upcoming big screen version of the A-Team – Liam Neeson, Bradley Cooper, Quentin "Rampage" Jackson, and Sharlto Copley – were on the Today Show today, and late in the segment got to briefly talk about and play with their toys from Jazwares. They didn't have the A-Team van on the segment. I had to pick one of those up the other day, after my resolve was broken by the A-Team van review last week. It's awesome!
At one point during the interview, Liam Neeson was asked what it was like to be in a movie where he was made into an action figure. Although he seemed unsure how to answer, it's not his first time – Mattel made a Ducard figure with his likeness from Batman Begins. You can still find a lot of Batman Begins Ducard figures on ebay
. Neeson fans, rejoice!
Here's the full video:
Visit msnbc.com for breaking news, world news, and news about the economy