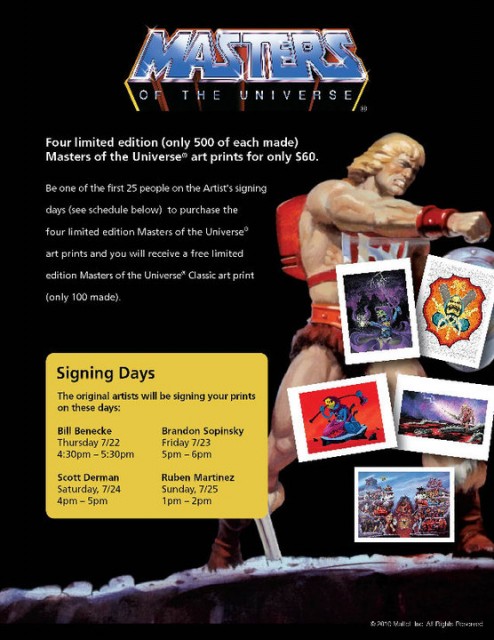 For those of you brave enough to endure the lines at the Mattel booth, you can pick up a limited edition Masters of the Universe Classics art print with purchase of a four-pack of MOTU art prints. But you have to be one of the first 25 people to do so, each day of the con.
MOTU Art Prints

Hey MOTU fans!

Are you ready for an exciting MOTU announcement? You've seen the art prints, now here's the scoop…At SDCC, four limited edition (only 500 of each made) Masters of the Universe art prints for $60 total, being sold and signed by one of the artists each day for one hour only at SDCC! And if you are one of the first 25 people on the artist's signing days to purchase the art prints you will receive a free limited edition Masters of the Universe Classic art print (only 100 made). The original artists will be selling and signing the prints during the following times only:

Bill Benecke — Thursday, 7/22 4:30-5:30 PM
Brandon Sopinsky — Friday, 7/23 5:00-6:00 PM
Scott Derman — Saturday, 7/24 4:00-5:00 PM
Ruben Martinez — Sunday, 7/25 1:00-2:00 PM

The pack of art prints contains 4 prints by the 4 artists listed above. One artist will be signing each day. If you have friends at SDCC who are MOTU fans, be sure to let them know!