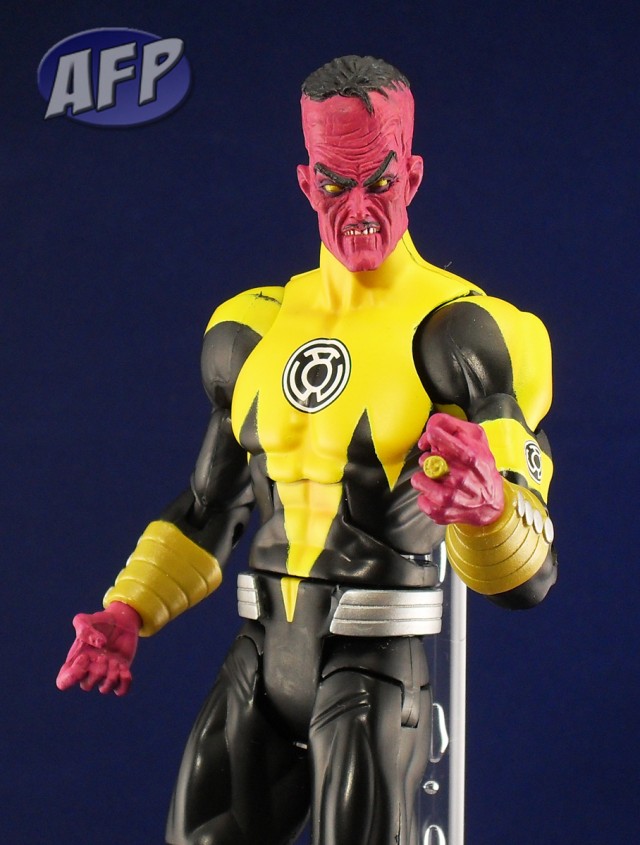 I picked up Green Lantern Classics Wave 1 last week and decided to use one of the Sinestro Corps bodies to knock out a quick and easy custom I've been wanting to do for over a year. Back in December of 2009, I found a good deal on a DC Direct SC Sinestro for $9 and knowing how coveted this particular figure is, I snapped it up like an avaricious Orange Lantern. My reasoning for it was that, sometime in the mist shrouded future, I would use parts from it to make a much more imposing and dangerous looking Sinestro than we got in DCUC 3. That time has come.
I know many out there will say that this body is too big for Thaal, but right now there isn't much else to go with for making a good SC Sinestro. I've seen a lot of great customs of  Sinestro (both classic and SC look) employing the Deadman buck and now Mattel has released a body very similar to those customs for the classic Sinestro in the TRU Exclusive Hal Versus Thaal 2 Pack, but personally, I think that body is too scrawny for SC Sinestro. I agree that, for comic accuracy, the Low/Maash body is a little too big but  it's working for me for the time being. I'm done defending my rationalizations, now onto the nitty gritty.
The DCD Head pops on the Low/Maash neck peg without any modification, just a simple heat n' pop. I use a hair dryer for 90% of my heat n' popping.
The hands were slightly more difficult as the peg holes in the DCUC forearms were a little too shallow. I used a small drill bit on my Dremel to drill them a little deeper. They're a little loose but they don't flop. I wish the wrists were a bit thicker to match the circumference of the DCUC wrist but beggars can't be choosers and I think it doesn't look that bad.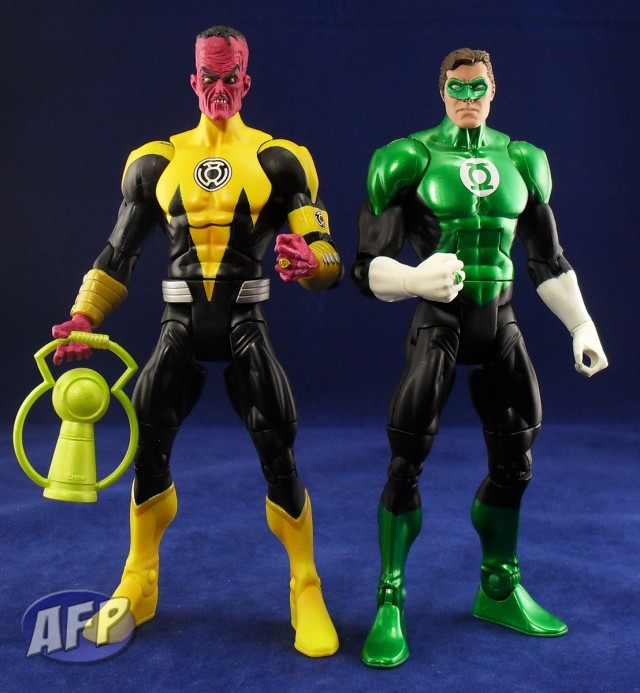 Leave it to me to take a pretty easy parts swap custom and make it a tad harder by doing some painting. The DCD Sinestro's flesh was pretty dark purple, so before popping the head and hands on I did a drybrush over them with Reaper Cloud Pink which helped get the flesh closer to Sinestro's alien hue and brought out a lot of the details of the sculpt.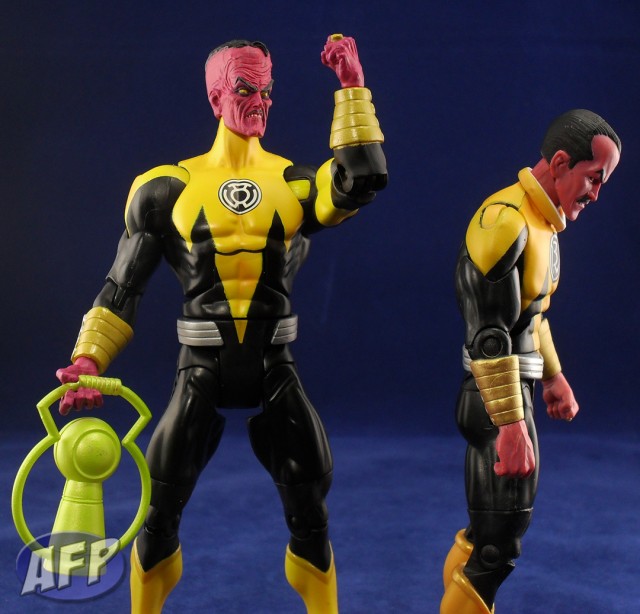 Next I touched up where I slopped pink on the the hair, eyebrows, mustache with Model Masters Flat Black. I repainted all of Sinny's hair to cover up the factory blue highlights as well. I used Model Masters White Primer to fix the slop I got on his teeth.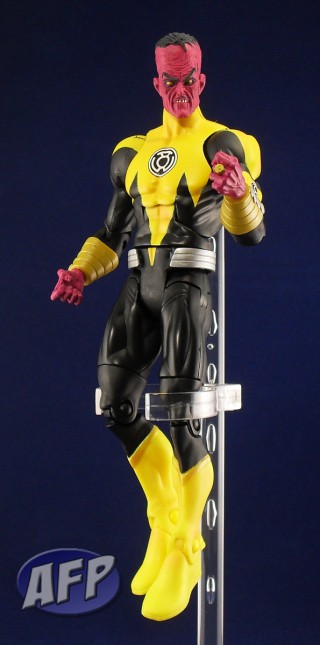 The eyes were a pain, even more so than usual. There's a weird ridge near the bottom center of the right eye that made it damn hard to paint the eyes correctly as it would make it appear that the iris was popping out of the eye. After fighting with it for an hour and a half, I finally decided that the yellow energy of his power ring should make his eyes glow yellow and wash out the details of his eyes. For the yellow I first painted the eyes black (when I was trying to paint them accurately) then I put down a coat of Citadel Foundation Iyanden Darksun Yellow (which is a great paint to use as a yellow base coat ) then a couple thin coats of Model Masters Insignia Yellow. I also used the same yellows for Sinestro's power ring.
I'm sure there are plenty of artists out there that could paint eyes with any good tipped brush but I ain't one of 'em. To paint eyes I use a Reaper 20/0 Round brush. I use to get incredibly frustrated trying to paint eyes until someone turned me onto small round brushes. Hopefully I'm passing this tip on to someone that is in a similar predicament.
One other technique I employed to make the eyes look more sinister was darkening the flesh around the eyes. I mixed a couple drops of Reaper Imperial Purple with a drop of the Cloud Pink and used my 20/0 brush to outline the upper and lower eyelids. It accentuates his malevolent expression and  also helps to cover up any yellow slop left over from painting the eyes.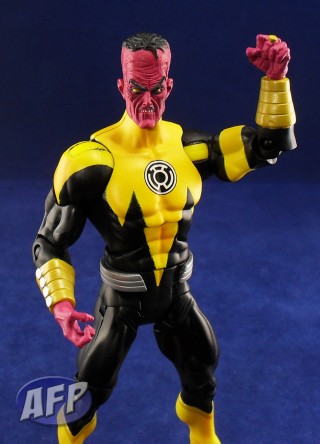 At some point in the future, I may go back and redo the eyes and, if I'm feeling really ambitious, sculpt the collar. For now though, this was a nice easy custom I squeezed in for myself while working on much more labor intensive commission jobs and helped boost my morale because it was feeling like it has been too long since finishing a custom for myself.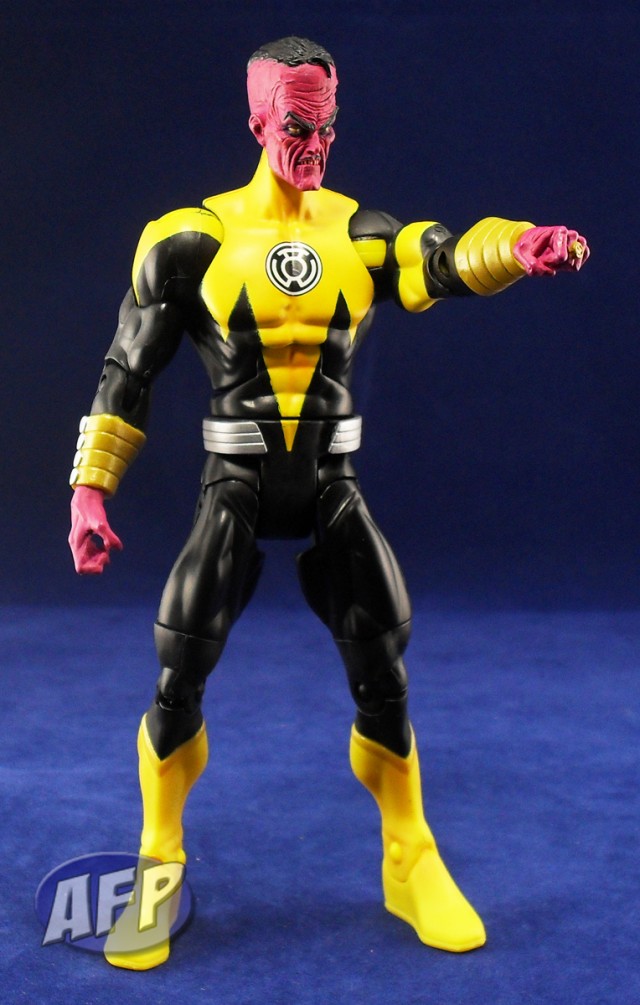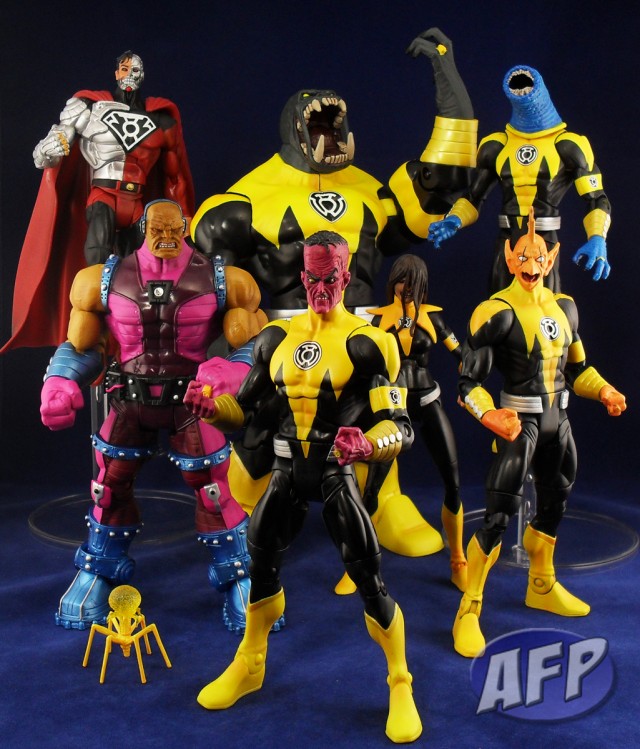 Thanks for looking!
View more pics of Buzzy's Custom SC Sinestro in the AFP Gallery!