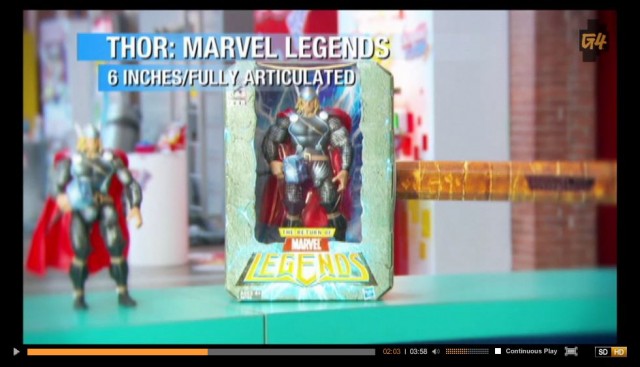 Hasbro unveiled the San Diego Comic-Con Marvel Legends Heroic Age Thor exclusive on Attack of the Show last night, and it looks awesome. Verily! The Mjolnir packaging is clever, but I don't think it will survive the trip back home. I wonder if the $24.99 price tag will deter folks from jumping back on the Marvel Legends bandwagon.
They also showed off the GI JOE / Transformers crossover exclusive with Cobra Commander and Skystriker, priced at $49.99. And then there's the lost Indiana Jones exclusives, packaging up the last wave of figures (plus a few more) that never made it to retail. Hasbro has a lot more exclusives, but that AOTS airtime isn't easy to get. We'll have to cover those in person at SDCC.
Grace Helbig visits the Hasbro headquarters in Rhode Island for an exclusive tour of the toy haven and the exclusive toys debuting at San Diego Comic-Con '11 later this week. Find out what's in store for Thor and a cool crossover with G.I. Joe and Transformers!
via First Look Hasbro's Comic-Con '11 Toys in High Definition – G4tv.com.