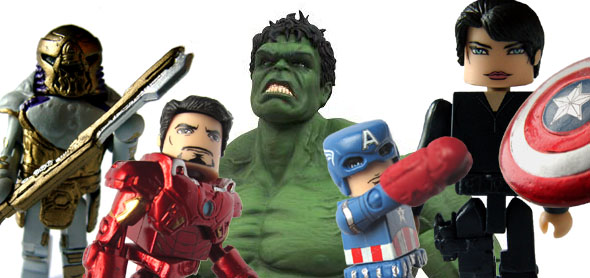 You might think that the price point on the Hot Toys Avengers movie figures is a little too rich for your blood. Or maybe you want something to satisfy that Avengers craving *today*. If so, DST has a couple of new releases on shelves now.
I'm thinking that the Marvel Select Hulk could capture Mark Ruffalo's likeness a little better, but I don't really mind. This Hulk has an ab tilt and swivel, two fists, bicep swivels, and DC Universe Classics hips. Innovation is allowing DST to cram more functional points of articulation into the limit prescribed by their license. Kudos to the designers!
And if you're looking to army build a Chitauri invasion force, Minimates might be the way to go. Might also be the only way to get a movie Maria Hill figure.
In Stores Today: Avengers Movie Minimates and Marvel Select Hulk!

It's new comic day at comic book shops nationwide, and for many stores that means it's also new toy day! With Marvel's The Avengers movie still smashing box office records, Diamond Select Toys thought this was the perfect time to roll out their Avengers movie product to comic book shops. The 45th series of Marvel Minimates (designed by the folks at Art Asylum) hits stores this week with four two-packs: Iron Man and Hulk, Captain America and Thor, and the specialty store-exclusive Chitauri Footsoldier and General, with a rare variant set featuring SHIELD agent Maria Hill. And if you need something bigger than two inches tall, check out the Marvel Select Avengers Movie Hulk action figure! At well over 9 inches tall and with 16 points of articulation, this massive, specialty-store-exclusive figure (designed by Gentle Giant from the movie's digital data), will fit in with any Avengers movie toy collection.
via Art Asylum Blog » In Stores Today: Avengers Movie Minimates and Marvel Select Hulk!