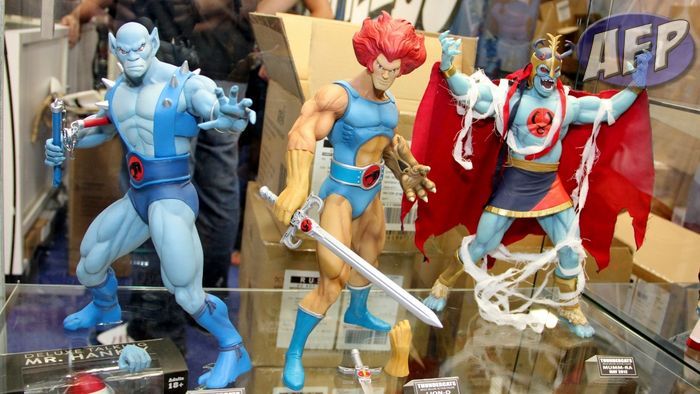 I love Mezco Toyz – they've made some of my favorite action figures with the Hellboy movie and comic lines. Now they've got a handful of pop culture licenses, with a range of items like large scale Thundercats to 2-inch Mez-Itz from The Dark Knight franchise. I've got a 6-inch Wonder Woman Mez-Itz (she is awesome) that I should be taking some pics of when I get back home. To my buddy Airmax – thanks again!
I'm disappointed that Thundercats didn't experience the kind of resurgence that was hoped for with the recent animated series, which I believe is still in limbo with no new news from Comic-Con. Warner Bros. spread the licensing around, so Mezco picked up these larger format stactions of the classics, while other formats went to other parties, most notably Bandai. The classics will continue to have a following and I'd like to see Mezco's take on Cheetara.
Their Earthworm Jim is a very faithful representation of the video game character – I'm not sure anything has happened with the most recent video game sequel announced several years ago, although the original game is making its rounds on mobile platforms. The Mars Attacks figures in both 6 or 7-inch and 3.75-inch scales look great, but I wonder what else we might see given that the cult classic movie came out back in '96.
I love Mez-Itz, but haven't jumped on the 2-inch bandwagon yet. I think that I might have to pick up the smaller ones from The Dark Knight franchise, though – seeing that 4-pack with Two Face, Scarecrow, Joker, and (of course) Bats has me pretty much there.