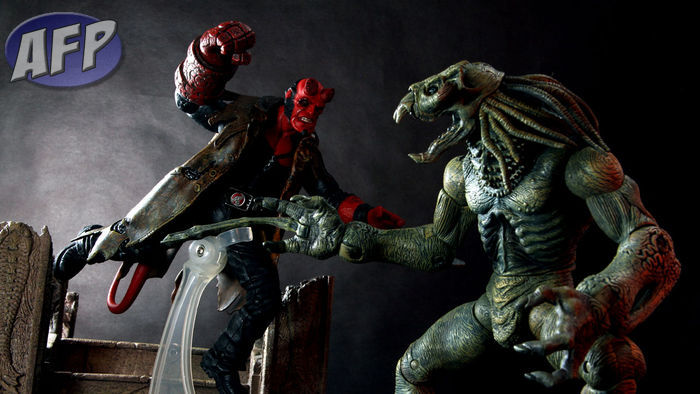 Long story short, I was reading the latest Hellboy TPB, The Storm and The Fury
, and that got me nostalgic for the first Hellboy movie, and that got me to break out the old Hellboy movie toys by Mezco – at least the ones that I could find. I'm sure the others will turn up, as I have some toy reorganizing to finish up in the next week or so, but for now, here's some shots that I took. Hope you enjoy them as much as I did shooting them!
This picture of Rasputen and Kroenen in the background is lit simply with a flashlight app (showing blue) on my Android tablet. While I do like the effect, I think I'll need to shoot it again with blue coming from the left side of the screen and some regular lighting coming from the right – would like to see it with the mix of both.
Update: had to try it before bagging these guys up again –
Looking at this, I definitely prefer the lighting on the second, but the angle of the first shot. Which one do you like better?
It's a fairly mundane shot, but it does give me a chance to wax poetic about just how much value Mezco was able to pack into these figures back in 2004 (wow, really?) This Hellboy came with an excellent soft goods BPRD trench coat that was removable, and that Samaritan could be cocked open for reloading. Abe came with interchangeable heads and gear so you could outfit him for time in the pool or out in the field.
There were lots of Hellboy variants, as you might have expected, but the pack-in accessories were pretty good – so you never really felt bad about buying yet another Hellboy. This stockade accessory lets you recreate the scenes leading up to the first movie's finale. That thing is heavy, and the articulated bars lock the stockade closed. When you remove them, you can swing it open and free your Hellboy.
I tried many different lighting setups for this shot, but ultimately the overhead room light worked best, keeping Hellboy lit while the villains in the back stay in the shadows.
The fun factor of this line has really endured. So has the quality and value. I'll have to revisit these guys, as well as the comic book line, soon.
You can check out more of our Mezco Hellboy coverage.