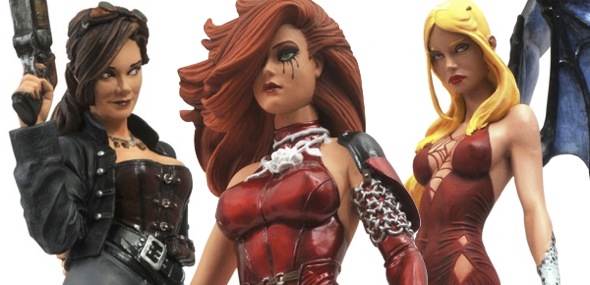 If you're looking for some eye candy this weekend, Diamond Select Toys is willing to oblige, and even send some your way, if you're lucky – with their Femme Fatales Giveaway! It's easy, pick your favorite pic of a Femme Fatales statue and post it on pretty much any of the social media networks, send the link to [email protected], and if they pick you, you'll get some Femme Fatales goodies so you won't have to scour the interwebs anymore.
They've revealed a bunch of great prizes already – the SDCC Darkchylde with prototype and statues of Anne Bonny, Snow White, and Alice.
Good luck!
Cherchez la Femme! It's a Full-Fledged Femme Fatales Giveaway!

Three new Femme Fatales statues — Darkchylde, Executioner Dawn and Steampunk Lexi — have hit stores, and plenty more (Kabuki, Bo Peep, Alice) are on the way, and we want to give one lucky fan an instant Femme Fatales collection! We've got a batch of rare and out-of-stock Femme Fatales, a couple of unpainted prototypes, the original pencil drawings for two of our original Femmes and a few more goodies, and we want to give them to you, whether you already have a bunch of Femmes or just want to get your collection started! Post a picture of your favorite Femme Fatales statue so far (we've posted a gallery below) on your Facebook, Twitter, Tumblr, Google Plus, Pinterest or Instagram page, and send a link to that posting to [email protected] We'll pick a winner at random on Monday and send them a box of Femmes!

Pick up or pre-order Femme Fatales at your nearest comic shop, which you can find at comicshoplocator.com. And keep track of the contest on Facebook and Twitter!
via Art Asylum Blog » Cherchez la Femme! It's a Full-Fledged Femme Fatales Giveaway!